Overview
Planes are frequently regarded as the quickest means of transportation. However, the time it takes to go to the airport, go through security, and process your luggage will almost certainly add a few hours to your flight. This is where high-speed trains excel for major reasons. Like, you do not have to reach the station 2 hours prior to the train departure, and also railway stations are usually located within the city. Thus, passengers do not have to travel hours in advance, making train travel more convenient.
Here are some fastest trains that run in various parts of the world:
L0 Series Maglev: 374 mph
The Central Japan Railway Company (JR Central) is currently developing and testing this Japanese train, which has a land speed record for rail vehicles of 374 mph. While booking a ticket to Tokyo may seem appealing, keep in mind that this train is currently being constructed for regular commercial usage.
The first phase (Tokyo to Nagoya) is scheduled to open in 2027, followed by Osaka. When finished, the L0 Series will have a top speed of 310 mph, allowing it to travel from Tokyo's Shinagawa Station to Osaka (a distance of nearly 300 miles) in one hour and seven minutes.
The L0 Series technology, known as maglev (magnetic levitation train), allows the train to float at speeds of up to 93 mph. The technology is presently being utilised across the world (see number four), and there are plans to use it for a train between Washington, D.C., and Baltimore.
For many years, France has mastered high-speed train travel. In 2007, the TGV POS achieved the world speed record for rail cars at 357 mph, which Japan's L0 Series later broke in 2015. The train is operated by SNCF for usage on the LGV Est route, which connects Paris, eastern France, and southern Germany. The train may attain a peak speed of 200 mph while in normal service. Although it is not 357 mph, it is still astonishingly fast.
While China's CRH380A Hexie (also known as Harmony) has a commercial maximum speed of 236 mph, it hit a remarkable 302 mph during testing. What's more, the high-speed electric train is merely one of four Chinese train types designed to operate on freshly constructed high-speed main lines. The CRH380A is the quickest, but the other three are not to be overlooked – have a look at the CRH380B, CRH380C, and CRH380D.
Shanghai Maglev: 268 miles per hour
The Shanghai maglev (also known as the Shanghai Transrapid) is a magnetic levitation train that runs out of Shanghai, China, similar to Japan's L0 Series. And, while ranking fourth on our list due to its peak speed of 268 mph, it is the oldest commercial maglev train currently in operation. It is simple to use this train if you arrive at Shanghai Pudong International Airport. You can get off at the center of Shanghai or continue on to the fringes of central Pudong, where the line terminates.
HEMU-430X: 262 miles per hour
While South Korea's HEMU-430X was designed to achieve 267 mph, it only attained 262 mph (421.4 km/h) in March 2013. Although it fell short of expectations (at least so far), the train earned South Korea some bragging rights: it is now the world's fourth country (after France, Japan, and China) to construct a train that can travel at speeds of more than 261 mph (420 km/h).
Fuxing Hao CR400AF/BF: 260 mph
The Fuxing Hao (also known as Fuxing or the CR series EMU) from China operates at speeds of up to 220 mph on a daily basis, but during testing, it hit an astonishing 260 mph, earning it a well-deserved position on our list. The Fuxing Hao travels on various high-speed lines in China, including the popular Beijing-Shanghai route.
Frecciarossa 1000: 245 miles per hour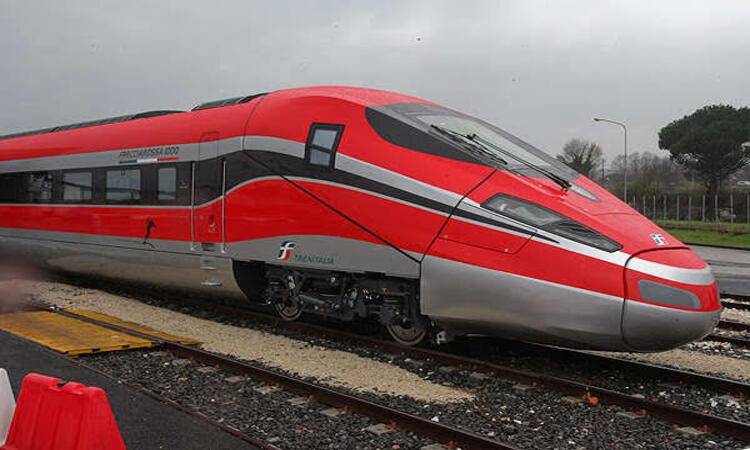 Although China dominates this list, Italy's Frecciarossa 1000 (also known as ETR 400) runs at breakneck speeds through cities including Milan, Florence, Rome, and Venice. While trains in Italy are limited to 190 mph, the Frecciarossa 1000 reportedly hit a top speed of 245 mph (393.8 km/h) in 2016.
Fastest Train In India
Vande Bharat Express


It is India's fastest semi-fast train. It has a top speed of 180 km/h. ICF, part of the Make in India project, manufactures and designs the train. The railway runs between Delhi and Katra between Delhi and Varanasi. The train has a top speed of 200 kilometers per hour; unfortunately, our present track system cannot handle such a high speed.



Gatimaan Express


It is the 2nd fastest train in India, followed by the Vande Bharat Express. The trains go at a speed of 160 km/h. The train has a total of ten carriages. Each has one male and one female host and three managers to help you throughout the voyage. On the train, passengers are greeted with flowers and sweets.
Don't forget to book your IRCTC train tickets online with us to enjoy exciting features like PNR status prediction, Train Time Table, and much more!!