All About the Ganesh Chaturthi Festival
This divine festival celebrating Lord Ganesha's arrival is a spectacle to behold. In this blog, we'll explore the magic of Ganesh Chaturthi and make your journey smoother with essential train travel tips. So, fasten your seatbelts (or rather, your train berths), and let's embark on this incredible adventure!
Ganesh Chaturthi, fondly known as "Ganpati Utsav," is all about honoring Lord Ganesha, the remover of obstacles. It's a time when streets come alive with colorful processions, mesmerizing decorations, and the rhythmic beats of dhol. The heartwarming part? It's celebrated with immense devotion across India, particularly in Maharashtra.
The Vibrant Celebrations: A Visual Feast
Imagine strolling through streets adorned with majestic pandals (temporary shrines) and beautifully crafted idols of Lord Ganesha. Let's dive into the heart of Ganesh Chaturthi - the celebrations themselves! Picture this: bustling streets adorned with magnificent pandals, each one a work of art dedicated to Lord Ganesha.
If you find yourself in Mumbai, the Lalbaugcha Raja in Parel and the Ganesh Galli Mumbaicha Raja in Lalbaug are iconic. These pandals draw millions of devotees, celebrities, and tourists alike, creating an electric atmosphere that's impossible to resist.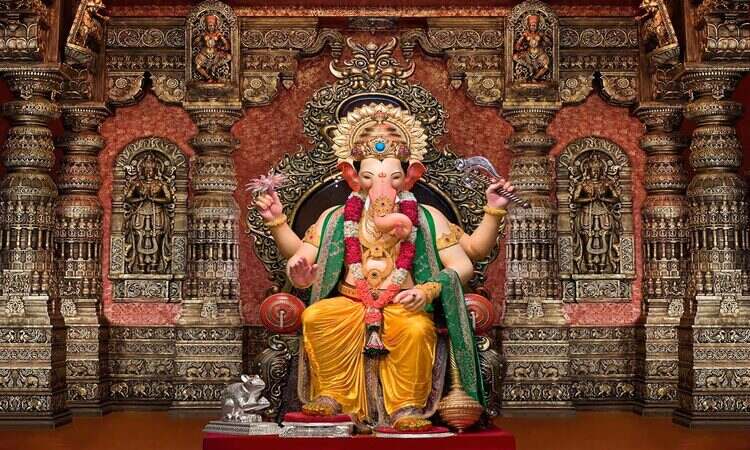 <Image Credit: Hindu God Wallpaper>
In Pune, the Dagdusheth Ganpati Mandal and Kasba Ganpati are among the most revered. The Dagdusheth Ganpati Mandal is known for its grandeur, while the Kasba Ganpati is famous for its historical significance. Both places are steeped in tradition and exude a unique spiritual aura.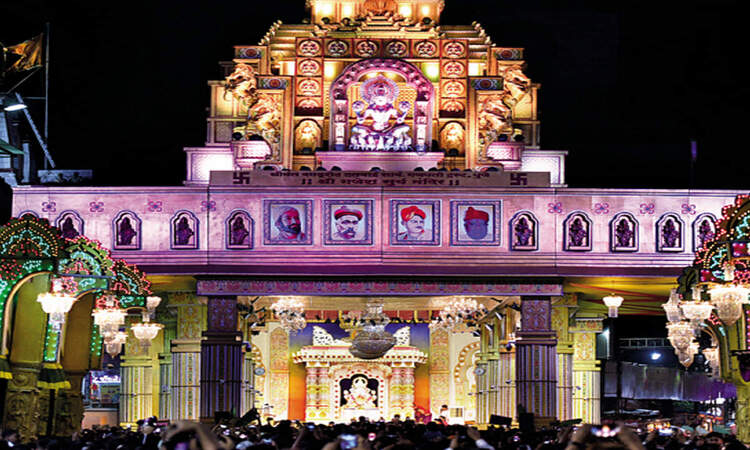 <Image Credit: TOI>
In Hyderabad, the Khairatabad Ganesh is a must-see. Towering at over 60 feet, it's one of the tallest idols in India and attracts visitors from far and wide. The immersion procession here is a spectacle you won't want to miss.
<Image Credit: India TV News>
Over in Kolkata, the festivities take on a unique flavor. The cultural amalgamation of Durga Puja and Ganesh Chaturthi results in a grand celebration. The Kumartuli Sarbojanin Durgotsav Committee hosts a mesmerizing immersion procession through the Hooghly River, showcasing the rich heritage of West Bengal.
In Chennai, the Vinayaka Chaturthi Festival at the Kapaleeswarar Temple in Mylapore is a sight to behold. The beautifully decorated idol, traditional music, and cultural performances create a serene yet festive ambiance.
These are just a few examples of the myriad celebrations across India. Each place puts its own distinct spin on the festivities, offering you a diverse tapestry of experiences. So, wherever your travels take you, know that Ganesh Chaturthi will welcome you with open arms and an exuberant spirit!
As you join the procession, the energy of the crowd, the vibrant music, and the aromatic incense will engulf you. It's a visual and sensory treat you won't want to miss!
Planning Your Ganesh Chaturthi Journey
Now, let's dive into the nitty-gritty of your trip. To ensure you have a stress-free Ganesh Chaturthi experience, plan your journey well in advance. Train tickets can get snatched up quickly, so book them as early as possible. This helps you snag great deals and secure a seat.
Navigating the Trains
Trains are a fantastic way to reach your Ganesh Chaturthi destination. Depending on your starting point, there are several routes to consider. If you're coming from a nearby city, opt for local trains. They're economical and immerse you in the local culture. For a more comfortable journey, choose express or luxury trains, but book them early!
Local Cuisine and Delicacies
Finally, let's talk about food. Ganesh Chaturthi is a food lover's paradise. Don't miss out on trying local delicacies like modak, puran poli, and chakli. Explore street food stalls for an array of flavors that'll tantalize your taste buds.
Ganesh Chaturthi is more than a festival; it's an unforgettable experience that connects you with India's rich culture and spirituality. By planning your train journey in advance, you can fully immerse yourself in the festivities. So, whether you're an adventurer or a devout traveler, Ganesh Chaturthi awaits you with open arms. Make the most of it, and may Lord Ganesha bless your journey!
Additional Tips and Resources
As usual, we this time as well have some additional information for you. The Indian Railways catering and Tourism Corporation is running Ganesh Chaturthi special. You can check the complete the list from here: Indian Railways is running 156 Ganesh Chaturthi Special to cater the need
And there you have it, your ultimate guide to celebrating Ganesh Chaturthi with trains. We hope this blog helps you embark on a memorable journey filled with spirituality, culture, and delicious food. Enjoy your Ganesh Chaturthi adventure!