Overview
Hello dear traveller, we've heard your query, and it seems like you like mountains way too much!! So, what exactly are you looking to explore in Darjeeling? We believe you want to witness the soothing view of overlooking hill town of snow peaks of Kanchanjunga, the widely spread slopped tea garden, the orchids, and pines isn't it? We would be so wrong if we did not include the whistling cute Himalayan train in those mountains in your "Things To Do in Darjeeling" list. Also, don't worry of course there will be tasty cuisines for you to taste, shops to do shopping, and much more. Are you excited already? Kanchenjunga, the third highest mountain in the world, towering this beautiful town, situated at an altitude of 6710ft in North India.
How to Reach Darjeeling?
The nearest railway station from Darjeeling is New Jalpaiguri (NJP) and the nearest airport is Bagdogra. It will take around 3 hours to reach Darjeeling from both places. You can use private, sharing taxis and buses to reach the destination. You can also enjoy the famous TOY TRAIN ride operated by Darjeeling Himalayan Railway.
Note: At Bagdogra airport, you can only get pre-paid small and large reserved taxis for Darjeeling. Helicopter Service is also available here to reach Gangtok.
Here is a Complete Route Detail from New Delhi to Darjeeling
If you are planning your journey to Darjeeling from New Delhi, you will have a number of transportation options.
Train Journey from New Delhi
As we already told you that there are no direct trains available for Darjeeling. However, you can board the trains to New Jalpaiguri (NJP). Darjeeling is just 76 km from here. There are some trains to Siliguri as well that you can board.
15910: Avadh Assam Express

15484: Mahananda Express

12506: North East Express

02550: Joyride Special

15622: ANVT KYQ Express
Air Journey from New Delhi
Take a flight from New Delhi to the Bagdogra Airport which is also 76 km away from Darjeeling. You can get flights to Bagdogra from almost every major airport in India.
Post these journeys you can use the other transportation means mentioned above to reach Darjeeling. However, if you want to reach Darjeeling by giving your eyes the most fascinating scenic experience, you can take up the journey of Toy Train available from New Jalpaiguri or Siliguri.
What to Explore in Darjeeling?
There are countless tourist places you can explore, including great viewpoints offering jawdropping views of Kanchenjunga snow peaks, Buddhist monasteries, historical churches, temples, rolling tea estates on mountain slopes, museums, art galleries, parks & gardens, waterfalls, cable car ride offering you breathtaking views of the mountain landscapes and tea gardens below, and so on.
Sightseeing and Things to-do
We can't miss mentioning the top attractions in Darjeeling, that is the Heritage Toy Train, the Sunrise view from Tiger Hill, the Zoo, Mahakal Temple on the top of Observatory Hill, and a lot more.
JAPANESE TEMPLE AND PEACE PAGODA
Constructed in 1972, with a white gleaming two-story structure, Peace Pagoda is an attraction in Darjeeling that showcases four statues of Lord Buddha glistened with gold polish and eight sandstone carvings. From here, the view of the Kanchenjunga peak and the surrounding hills and valleys look simply mesmerizing.
Batasia Loop is a loop or a spiral of a narrow-gauge railway track where the Toy Train negotiates a sudden sharp descent. It is located 5km from Darjeeling Town and just below Ghoom. In the center of this garden, a war memorial is situated in honour of the Gorkha soldiers of Darjeeling.
Laid out in 1871, with an area of 40 acres, Lloyds Botanical Garden should be your stopover if you are on a sightseeing trip to Darjeeling. the garden is the habitat of bamboo, oak, magnolia, Arisaema, cotoneaster, wild geranium, and rhododendron. The garden is a delight for nature lovers.
Darjeeling- Rangit Valley Cable Car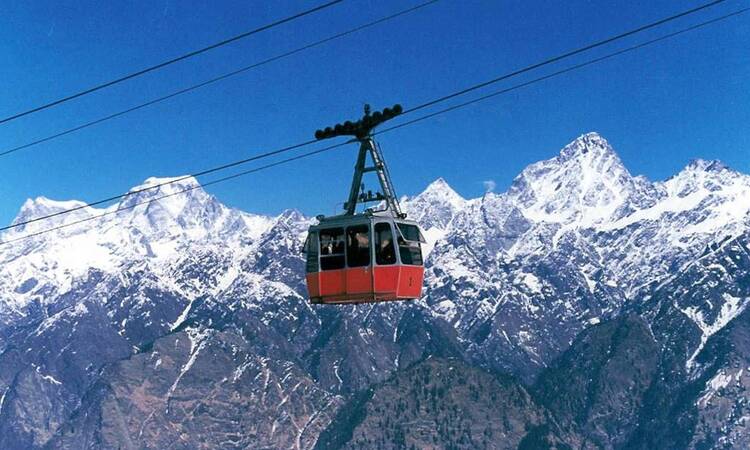 Experience one of the longest cable car rides in Asia and the only one that passes through rolling tea estates. It is a 40-minute one-way with the tea estate below and the hills of Sikkim on the right.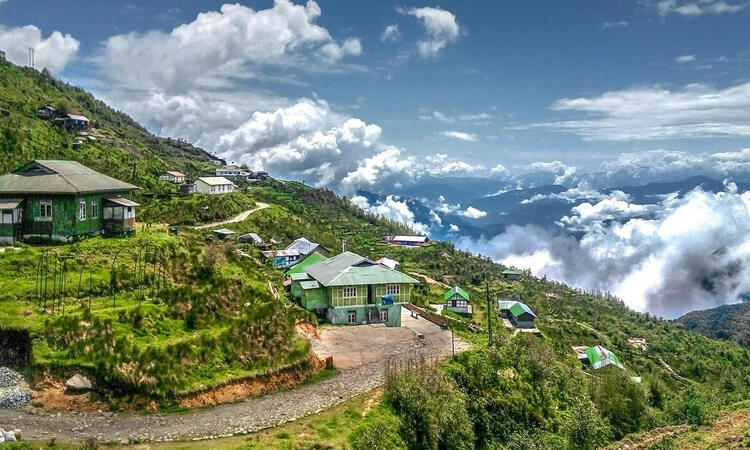 Darjeeling hills have some of the best treks. The trekking routes offer stunning views of the mountains and forest. The more time you will invest in trekking, the more eye-soothing scene you will get. Imagine seeing the view of four out of five highest peaks of the world in one stretch of snow, over 600 varieties of orchids, or a rare pada.
Food
As we assume, travellers just can not resist sipping a new type of Tea. And, Tibetan tea is a must to try here, as it is very unique as they have salt and butter added to their tea. On your next visit, do try it and tell us about it.
Sel Roti is a dish that locals prepare usually at home during the festive season or during celebrations like marriage, birthdays, and religious gatherings. These roties are made from rice paste in the form of a ring and then deep-fried for its delicious flavor as the crust around the Sel. You can eat it on its own, with cheese, butter, chutney, or any curry.
These are locally made beverages. Both are made by fermenting millet. They are usually served in bamboo containers and have to be sipped with the help of a bamboo pipe.
When to visit Darjeeling?
What is the best time to visit Darjeeling? The answer lies in how you want to enjoy your time here. However, there are two best seasons to visit Darjeeling.
Between March to May (i.e. spring & summer),

Between October to November (i.e. autumn).
These are the times when the temperature is pleasantly cool and the sky is usually clear offering lovely views of Kanchenjunga snow peaks. The summer is short from May up to June. These times are also good for tourists who want to visit the National Parks and Sanctuaries in the Darjeeling district, because between mid-June to mid-September these places are closed for tourists.
And, for the travellers who love the hills in the rainy season, the temperature there is between 13-19 degrees. We suggest you pack your bags and take the train to your favourite destination, Darjeeling. Which train would you like to take for your trip? Check Trainman for ongoing Monsoon offers and book your tickets. You can also use our app on your android or iOS devices.