When describing the mesmerizing allure of Hampi's unparalleled and surreal terrain, words often fall short. The task of conveying its majestic beauty to someone who hasn't experienced it firsthand is genuinely challenging. According to local legends, this awe-inspiring landscape is believed to be the masterpiece of God Hanuman, born in the neighbouring region of Kishkinda.
Nestled by the banks of the Tungabhadra River, Hampi is also a stone's throw away from other popular destinations such as Goa and Kerala. The time-honoured temples, steeped in spirituality, and witnessing the mystical remnants of the grand Vijayanagar Empire's beautiful palaces and majestic halls, scattered across vast expanses, seamlessly blend with the unhurried rhythm of this quaint town. So, let us take you on a journey to some of the architectural marvels in Hampi.
Vittala Temple
Located just outside the city limits, Hampi boasts a remarkable temple structure of immense scale and beauty. Construction on this magnificent edifice commenced during the later years of the empire. Despite remaining unfinished and unconsecrated, the temple is an astonishing sculptural craftsmanship of Vijayanagar art.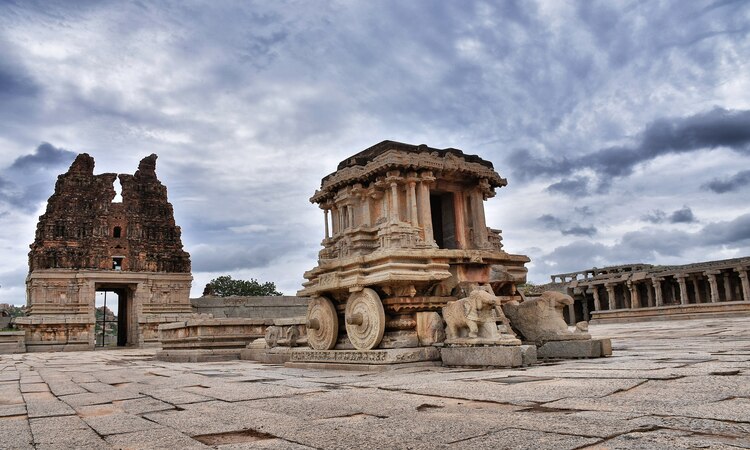 (Image Credit: Wikimedia Commons)
Devoted to Lord Shiva, Vittala Temple's central courtyard houses a marvellously carved stone chariot, adorned with wheels that are rumoured to have the ability to turn. Adding to its allure is the enchanting "Ranga Mantapa," an open pavilion intended for dance and music performances. Supported by 56 musical pillars, this pavilion produces captivating melodies when struck, with each pillar meticulously tuned to produce one of the seven notes in the Indian classical music scale.
Mahanavami-Dibba
In the heart of the ancient city stands the majestic Mahanavami-Dibba, with its awe-inspiring height and intricate embellishments, stand as a testament to the rich heritage and vibrant celebrations of the Vijayanagar dynasty. It reaches an impressive height of 12 meters. Its three tiers are meticulously adorned with intricate carvings, showcasing the skill and artistry of its creators.
As one ascends this grand structure, a world of wonder unfolds before their eyes. The enclosed complex reveals a mesmerizing panorama of ancient temples, glistening cascading tanks, and the resplendent assembly hall. This elevated platform holds a significant place in history, serving as a prestigious vantage point for the Vijayanagar royalty and esteemed visitors hailing from across the world.
The platform witnessed the unfolding of awe-inspiring sporting events, where champions showcased their prowess. It also played host to enchanting musical performances, filling the air with melodies that resonated with the joyous spirit of the festivities. Its elevated position grants a glimpse into a bygone era, where power, tradition, and the joy of festivities converged in a breathtaking spectacle that continues to captivate all who behold it.
Virupapura Gaddle
Take a relaxing boat journey across the meandering waters of the Tungabhadra River, as it guides you towards the captivating haven known as Virupapura Gaddle, lovingly referred to as Hippie Island. This hidden gem has become a serendipitous destination for numerous intrepid backpackers who, captivated by its charm, have found themselves entangled in its spell, extending their sojourns beyond their initial plans.
(Image Credit: Backpack Wanderings)
Prepare to be enthralled by the captivating vistas of vibrant rice paddies that paint the landscape, complemented by a delightful array of small restaurants, each brimming with its unique character. As you meander through the quaint alleyways, you'll stumble upon a handful of enchanting handicraft shops, offering a treasure trove of cultural artefacts.
Amidst the harmonious symphony of colours and scents, you'll find yourself spoilt for choice when selecting the perfect spot to relish a delectable lunch. All this while being treated to the awe-inspiring spectacle of the sun bidding its farewell, casting a mesmerizing golden glow along the tranquil riverbanks.
Hemkuta Hill
Situated to the south of Virupaksha and offering a commanding view over it, Hemkuta Hill reveals a collection of ancient ruins that hold both historical and aesthetic significance. Embarking on the journey uphill is a rewarding experience as it unveils not only the remnants of the past but also a captivating panorama.
(Image Credit: Adventure Buddha)
It is said that it was on Hemkuta Hill that Parvati and Shiva were joined in matrimony, their union symbolized by a joyous celestial downpour of golden showers from the heavens above. This sacred and joyous occasion marked the culmination of their divine love and the beginning of a celestial bond that transcended mortal boundaries.
Hemkuta Hill, with its intriguing ruins and breathtaking vistas, stands as a testament to the profound love between Parvati and Shiva, their union immortalized in the very fabric of this ancient site.
Lakshmi Narasimha
Among the revered treasures of this ancient city, one particular masterpiece stands tall and captivating—the monolithic carved statue of Lakshmi Narasimha. This awe-inspiring sculpture depicts the divine incarnation of Lord Vishnu, manifested as a magnificent half-man, half-lion figure. The statue reaches an impressive height of 6.7 meters and emanates a sense of profound divinity.
In a seated position, Lakshmi Narasimha assumes a serene lotus posture, symbolizing inner peace and spiritual harmony. The intricate carvings adorning the figure showcase exceptional craftsmanship and attention to detail. As observers you can gaze upon this remarkable creation, their eyes are drawn to a formation of seven snakes, gracefully sheltering the deity from above, adding an element of mystique and protection.
It stands as a focal point of reverence and devotion, drawing pilgrims and admirers from far and wide who seek to behold the extraordinary beauty and divine grace emanating from this remarkable statue.
Trains to Hampi
Conclusion
Whether you're a history enthusiast, a nature lover, or a spiritual seeker, Hampi beckons you to immerse yourself in its unparalleled splendour. Discover the magic of this extraordinary place, where the past and the present intertwine, leaving an everlasting impression on your soul. Exploring the architectural marvels of Hampi is a journey that takes one through a realm of unparalleled beauty and rich history.