Tamil Nadu, a state nestled in the southern part of India, is celebrated for its diverse terrains, timeless heritage, and vibrant culture. Discovering the magnificent natural allure of Tamil Nadu is often best achieved by embarking on captivating train journeys that traverse its picturesque hill stations.
Tamil Nadu boasts a plethora of hill stations that can be conveniently accessed by train, making them ideal retreats for those seeking a revitalizing sojourn. These hill stations provide a sanctuary from the sweltering heat of the plains and ensure a pleasant climate throughout the year.
Kodaikanal: Gift Of The Forest
Kodaikanal offers visitors natural splendour beyond compare that unveils a multitude of captivating marvels that will undoubtedly mesmerize you. In Tamil, the name of this charming hill station means "Gift of the forest". Among the myriad treasures, one destination stands out—the enchanting Kodaikanal Lake. Prepare to embark on a journey of serenity as you indulge in delightful boating escapades and leisurely strolls along the picturesque lakeside.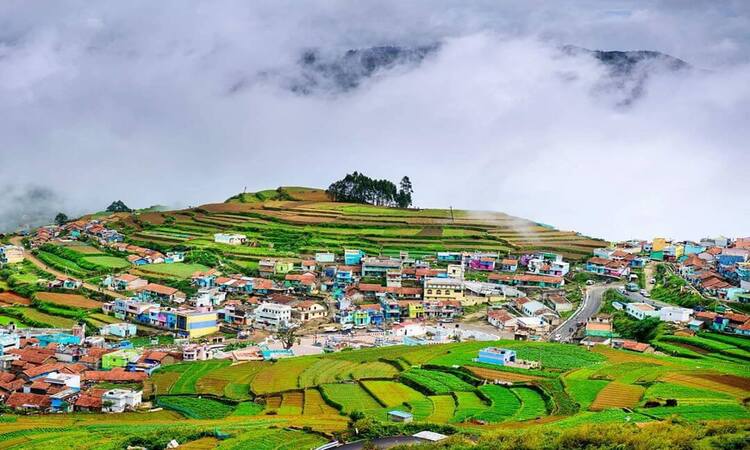 (Image Credit: Tusk Travel)
Additionally, make sure to set foot upon the renowned Coaker's Walk—an idyllic pathway that reveals breathtaking vistas of the encompassing hills and valleys. For the ardent admirers of nature's wonders, Bryant Park and the Pillar Rocks eagerly await your exploration.
Amidst the verdant emerald foliage, the cascading majesty of the Bear Shola Falls beckons you, offering an irresistible allure that mustn't be overlooked.
Getting Here (Nearest Railway Station - Dindigul)
Yercaud: The Jewel of the South
Yercaud, renowned for its captivating landscapes and tranquil ambience, invites you to indulge in its scenic wonders. Among the array of treasures that await, the crown jewel is none other than the enchanting Yercaud Lake. Prepare for an immersive experience as you partake in serene boating excursions and embark on exhilarating horseback rides. Nestled near the lake, the meticulously maintained Anna Park unveils its botanical splendour, boasting a delightful array of verdant flora and vibrant blossoms.
(Image Credit: OnManorama)
Another alluring attraction awaits your exploration—the Lady's Seat. Perched atop a vantage point, it unveils a panoramic spectacle, granting you a captivating view of the city and the undulating valleys that surround it. Akin to a mesmerizing pyramid, Pagoda Point beckons with its breathtaking vistas of Salem town and the majestic hills that embrace it. Meanwhile, nestled within the depths of lush forests, the resplendent Kiliyur Falls cascades in all its glory, captivating visitors with its awe-inspiring natural beauty.
Succumb to the allure of Yercaud's scenic majesty, and surrender yourself to the serenity that envelops this magnificent haven.
Getting Here (Nearest Railway Station - Salem Junction)
Ooty: The Queen of Hill Stations
Once a favoured summer retreat during the era of the British Raj, Ooty emerges as an exquisite hill station nestled in the Nilgiris district of Tamil Nadu. Aptly crowned as 'The Queen of Hill Stations in India,' Ooty stands proudly as one of the most sought-after destinations in the country, luring travellers with its unrivalled natural splendour, salubrious climate, and resplendent heritage.
(Image Credit: Travel and Leisure Asia)
Originally christened as Udhagamandalam, Ooty adorns itself with a plethora of historical landmarks, each beckoning exploration and admiration. Among these illustrious treasures, the Government Botanical Garden claims its rightful place as a must-visit attraction. Since its establishment in 1897, this verdant oasis has flourished with an impressive collection of over 600 plant species, captivating the senses of visitors and offering a delightful rendezvous with nature's grandeur.
Another gem deserving of attention is the Government Museum of Ooty, a custodian of the region's rich past. Within its walls, a treasure trove of artefacts belonging to the esteemed Toda tribe awaits discovery. Step into a world of ancient allure as you behold an array of coins, sculptures, and pottery, unravelling the captivating narrative of this remarkable land.
Getting Here (Nearest Railway Station - Coimbatore)
Coonoor: A Tranquil Retreat
Nestled graciously amidst the splendid Nilgiri Hills of the Western Ghats, Coonoor stands as one of Tamil Nadu's most breathtaking and serene hill stations. Adorned with natural beauty and tranquillity, Coonoor holds the distinction of being the second-largest hill station in the Nilgiri Hills, a testament to its grandeur.
Coonoor's allure lies in its ability to offer awe-inspiring vistas of the Nilgiri Hills and the majestic Catherine Falls, allowing visitors to immerse themselves in the sheer magnificence of their surroundings. Moreover, this picturesque town serves as an ideal gateway to embark on thrilling trekking expeditions, beckoning adventurers to explore the untamed wilderness of the Nilgiris. Among these treks, the journey to Lamb's Rock, located 9 kilometres away from Coonoor, stands out as a popular choice, promising an unforgettable experience.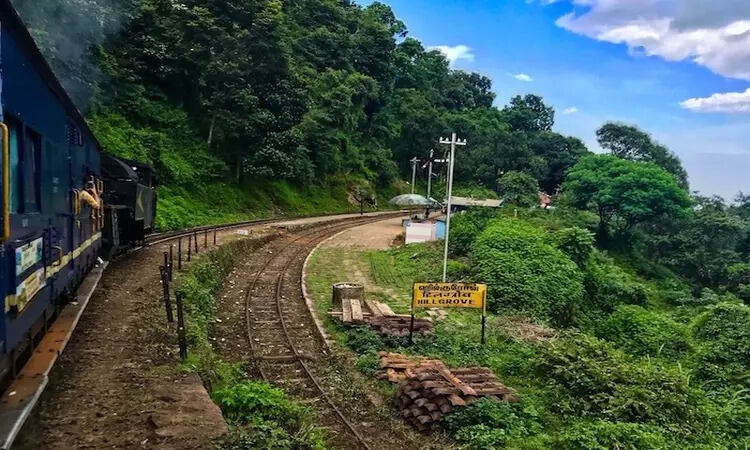 (Image Credit: Whistling Hound)
Encompassed by the splendour of the Nilgiri Hills, the Coonoor Hills present themselves as the gateway to this mesmerizing mountain range, a mere 19 kilometres from the renowned Ooty hill station in Tamil Nadu. Rising majestically to an elevation of 1856 meters, Coonoor Hill Station proudly claims the position of being the second-largest hill station in the state, offering a sanctuary of serenity amidst the Nilgiri Hill range.
A captivating highlight of the Coonoor Hills is the renowned Sim's Park, an enchanting haven that plays host to a myriad of bird species, including bulbuls, babblers, and robins. The melodious symphony of their chirping serenades visitors, filling the tranquil air with ethereal music. Additional attractions await explorers, such as Lamb's Rock, Lady Caning's Seat, and Dolphin's Nose, each possessing its own unique charm and offering breathtaking panoramas.
Coonoor Hills pulsate with life and vibrancy during the annual Coffee Festival and Fruits & Vegetables event, drawing inquisitive visitors from far and wide to revel in the natural splendours of this captivating hill station. A delightful spectacle awaits those who embark on a journey aboard the Toy Train that traverses the Coonoor Hills, treating passengers to a kaleidoscope of scenic wonders.
Getting Here (Nearest Railway Station - Coimbatore, See Previous)
Valparai: A Wildlife Haven
Coimbatore, often referred to as the Manchester of South India, is a bustling city surrounded by the Western Ghats. While not a traditional hill station, it serves as a gateway to several nearby hill stations, including Valparai and Topslip. The region is known for its textile industry and is also a popular base for wildlife enthusiasts.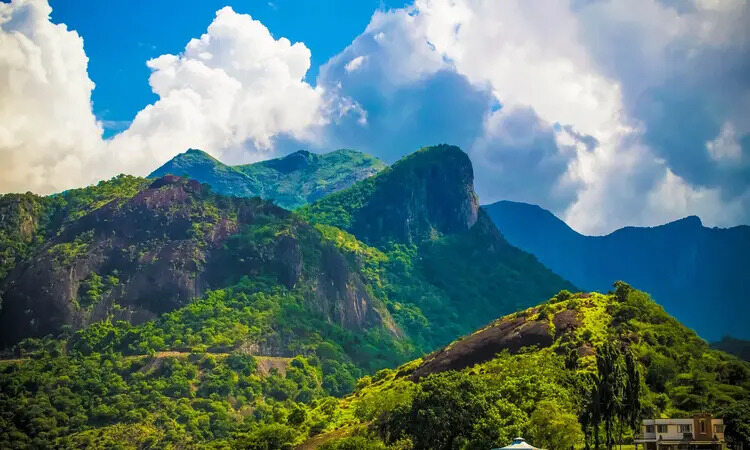 (Image Credit: Travel and Leisure Asia)
Valparai Hill station, situated at an impressive altitude of over 3500 feet above sea level on the Anamalai mountain range of the Western Ghats, stands as a gem among the finest tourist destinations in Tamil Nadu. Located at a distance of 64 kilometres from Pollachi and 102 kilometres from Coimbatore, Valparai embraces its visitors with an enchanting realm of pristine beauty.
This pollution-free haven unfolds as a heavenly landscape adorned with sprawling tea estates, creating a captivating tapestry of greenery. Valparai emerges majestically, cradled by the embrace of the magnificent Green Spread Mountains, while picturesque forests envelop the surroundings in a blanket of serenity. The journey from Pollachi to Valparai in itself presents an extraordinary experience, where every moment unfolds as an exotic adventure.
Getting Here (Nearest Railway Station - Palakkad)
Yelagiri: A "Do Nothing" Holiday
Yelagiri, a collection of 14 hamlets nestled away from the chaotic bustle of city life, emerges as an idyllic hill station for those yearning for tranquillity and solitude. This heaven presents itself as a half-horse town, where a single main road gracefully meanders, adorned with delightful teashops, a handful of liquor stores, and a few charming boutiques. With limited distractions and a tranquil ambience, Yelagiri's true allure lies in its simplicity.
(Image Credit: OnManorama)
Here, the essence of sightseeing is minimal, shopping is scarce, and the absence of touts and souvenir hunting adds to the charm. Unlike crowded tourist destinations like Ooty, Yelagiri remains unspoiled by hordes of visitors.
For those seeking more active pursuits, embark on a journey to nearby villages, traversing through wooded slopes or exploring the temples that locals passionately recommend. Convenient transportation options such as autos and buses are readily available to enhance your exploration.
Getting Here (Nearest Railway Station - Jolarpettai)
Conclusion
This illuminating discourse will transport you on a virtual journey to some of the most mesmerizing hill stations that grace Tamil Nadu. As you embark on this captivating expedition, prepare to be enthralled by the awe-inspiring panoramas and serene environs that these destinations offer.
Tamil Nadu is a beautiful state that is home to some of the most idyllic and picturesque hill stations in India. While each of these hill stations has its own charm, all of these are among the best mid-year destinations in the country that allow you to beat the heat.