Do you know that more than 2 Crore passengers travel by Railways on a daily basis? This I am talking about the trains that run throughout India only. There are some trains that even cross International borders. Yes, services of Indian Railways is not only concentrated to India, but is expanded to neighborhood countries like Bangladesh, Nepal and Pakistan. These International trains go through rigorous security checks before crossing the International boundaries daily. Let's see which all such trains are and how to book ticket in these trains.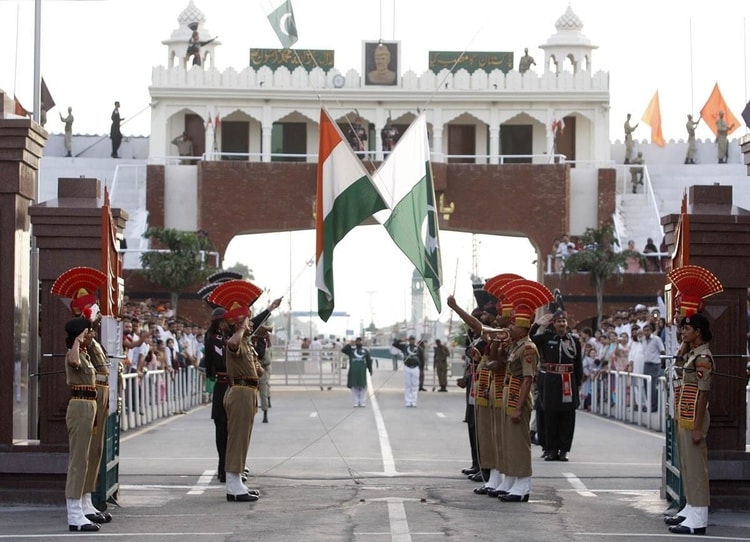 INDO-BANGLASEDHI RAIL CONNECTIVITY
The partition of Bengal and India on 15 August 1947 led to the inception of the Indian state of West Bengal; East Bengal became a territory of the state of Pakistan. The antagonistic bilateral relations between the two nations made transport links very finite and limited, despite the cultural and commercial links between West and East Bengal. At the eruption of the Indo-Pak War of 1965, the only railway link between Dhaka and Kolkata was shut down, and it remained abandoned until 2008 with the launch of the Maitree Express.
After the existence of Bangladesh, following the Bangladesh liberation war in 1971 from Pakistan, bilateral relations improved considerably, but the two governments moved slowly on implementing a 1980 agreement on improving transport links. In the 1990s, the Indian and Bangladeshi governments amalgamated to open bus services between Kolkata, the capital of West Bengal and one of the largest cities in India, and Dhaka, the capital and largest city of Bangladesh. In 2001, another bus service was launched to connect Dhaka with Agartala, the capital of the Indian state of Tripura the second largest city of Northeast India that borders Bangladesh in the east. And then in 2008, there was first run of joint service of Indian railways and Bangladesh railways (Maitree express). In current scenario there are two trains that connect India with Bangladesh:
1. Maitree Express
Maitree express (formerly it was East Bengal express/mail) was flagged off on April 14, 2008. It travels around 393 kilometers to reach Dhaka from Kolkata and takes around 10–11 hours to cover the entire stretch. There are two stop immigration checks that are carried out in Kolkata and Dhaka cantonment; one at Gede (Indian) and the other one at Dorshona (Bangladesh).
As of June 18, 2014, return tickets are available for Maitree Express (13109/10) on a predefined number of seats, for up-to two days before date of journey excluding journey date. The return tickets have to be validated, by going to the station 2 hours before the departure of the train. The return fare includes only the base fare, and all other taxes and service charges have to be paid while validation of the ticket. This is applicable for return journeys from both Dhaka as well as Kolkata.
Tickets can be booked in Dhaka for Maitree Express (13107/08) from the Kamalapur Main Reservation Counter only. In Kolkata tickets may be purchased from the International Ticket Booking Counter at Fairlie Place, Dalhousie Square, and also at the Kolkata station. Pantry cars available in train number 13109 & 13107. It has first class and chair car coaches.
2. Bandhan Express
Bandhan Express (13129/30) was formerly known as Barisal express. A new passenger train between West Bengal and Bangladesh was flagged off by Hon'ble Prime Minister Shri Narendra Modi, West Bengal Chief Minister Mamata Banerjee and Prime Minister of Bangladesh Sheikh Hasina via video conferencing on 9 November, 2017.
The fully air-conditioned train runs on every Thursday. The distance between Kolkata and Khulna is 172 km with a journey time of four and a half hours. It has two intermediate stations – Petrapole (Indian border), with a stoppage time of 10 minutes, and Benapole (Bangladeshi border), with a stoppage time of 15 minutes. It operates under eastern railway zone of Indian Railways. Immigration process is done at Kolkata, even though the visa is to be collected from the Indian Embassy beforehand. There are number of other freight train that runs on route same as passenger trains between India and Bangladesh.
Indian and Bangladeshi governments laid the foundation stone for a project on 31 July 2016 for a new rail link to ease surface transport. The Indian Railway Construction Company (IRCON) will build a 15-km railway tracks linking Tripura's capital Agartala with Bangladesh's southeastern city of Akhaura.
Indo-Nepal Rail Connectivity
During the Rana period, the Raxaul(India)-Amlekhagunj(Nepal) section of the Nepal Government Railway (NGR) was built, which was 2ft 6 inch (762 mm) narrow gauge railway. This 39 km long line built by the British in 1927, allowed people from different regions of the country to reach Amlekhganj in Nepal, and was very helpful to move heavy vehicles to Bhimphedi. It was then possible to reach Kathmandu from Bhimphedi by foot, but the railway was later closed down. The historical Janakpur railway line is running between Nepal and India was once a major border crossing facility for citizens on both sides of border.
Later in 1937 British built a 32 km track to carry timber from the once heavily forested areas of Janakpur to the Indian city of Jaynagar. The railway track from Raxaul was converted to 1,676 mm (5 ft 6 in) by the Indian railways to connect Sirsiya (Birganj) Inland Container Depot (ICD). The railway became fully operational in 2005, though certain segments were used in 2002. It helps to move containers and other cargo to and from Kolkata port and other places in India. It is the most important entry point for imports into China, and is essential for Nepal's commercial hand. Birganj is located 700 km from the Kolkata port by railway. Trains that run between India and Nepal are: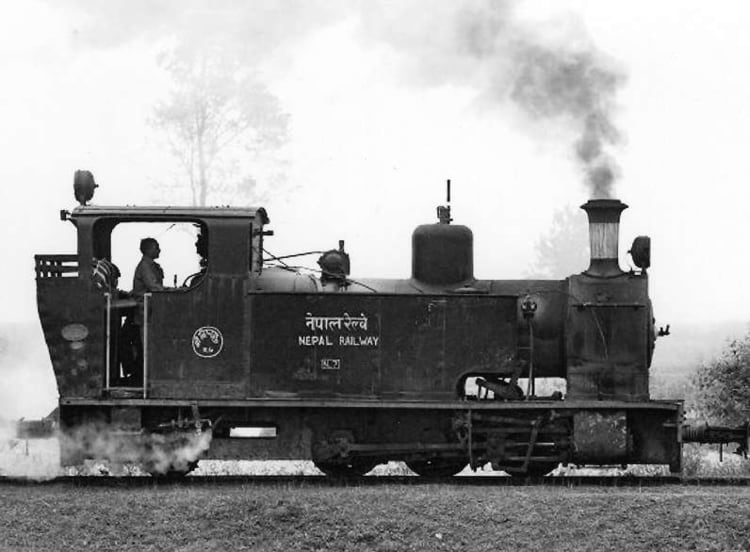 Seemanchal Express
Seemanchal Express (12487/88) runs between Jogbani and Anand Vihar. Service of this train is daily. There are 17 stoppages in its route. This stretch is 1379 km long which takes around 24 hours and 50 minutes to complete. Although this train does not cross border, but Nepal's Biratnagar is 6KM away from its destination that is Jogbani. So anyone who wishes to reach Nepal by rail can take this train till Jogbani from where there are number of bus, auto and cab services available.
Indo-Pak Rail Connectivity
The partition of India in 1947 also led to the termination of most transport links between the newly independent India and Pakistan which was used for cross-migration of people. The First Kashmir War had similarly divided the Himalayan region of Kashmir between the two rivals, causing termination of road links in the region. Kashmir and the international border in the divided region of Punjab were dominant places during the Indo-Pak Wars of 1965 and 1971.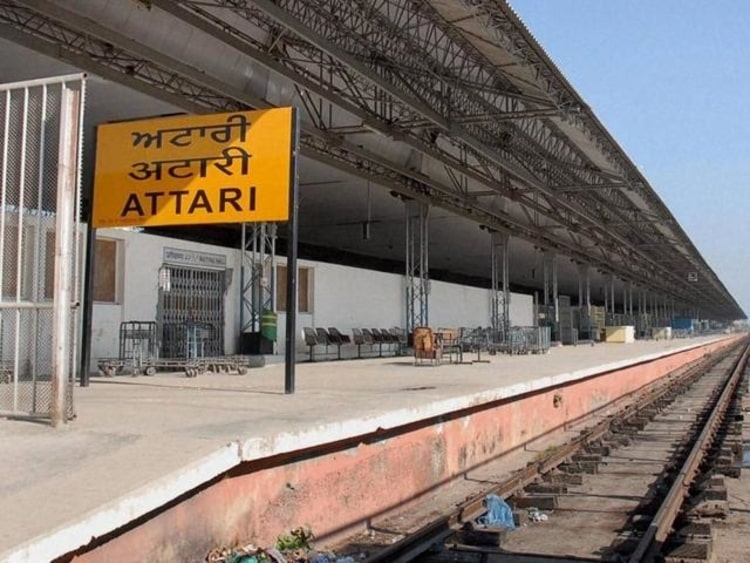 The train joining Indian city of Jaipur with Pakistani city of Karachi across the Thar Desert was destroyed when the Pakistani Air Force bombed the tracks during the 1965 war. The Kargil War of 1999 broke out when Indian force sought to repel militants and Pakistani soldiers who had infiltrated across the LoC (line of control). In 1977, both nations launched the Samjhauta Express connecting the Indian city of Attari with the Pakistani city of Lahore. India and Pakistan have no official trade relations due to ongoing tensions. Train that runs between India and Pakistan are:
Samjhauta Express
This is the only train that binds India with Pakistan. Its termini are Lahore in Pakistan and Delhi in India. The border crossing takes place between Wagah in Pakistan and Attari in India. There is a train from Delhi to Attari where all passengers alight for immigration and customs. This train does not have any commercial stop between Delhi and Attari. The distance between old Delhi and Atari is 472 km which is covered in 8 hours and 5 minutes. It is officially known as the Delhi-Attari or Attari-Delhi Express or Samjhauta Link Express (14001/02). The actual Samjhauta Express (14607/08) runs from Attari to Lahore and Lahore to Attari, although the passengers are checked at Wagah, the first station on the Pakistani side. It stops at Atari and Lahore only. Distance between two stations is 27 km which is completed in 4 hours and 10 minutes. There are 3-tier AC and sleeper class coaches provided in Samjhauta express rake.
On 18 Feb, 2004 there was a terrorist attack that happened in Samjhauta Express train. Bombs were placed in two passengers filled carriages and sixty-eight people were killed in the ensuing fire and dozens more were injured. Among 68 mortalities, most were Pakistani civilians. The Indian civilians and three railway policemen were also included in list of victims. Afterwards security was increased to restrict terror attack in these trains.
The feeling of crossing an International border and experiencing another country is so much exciting and different than touring in your own county. I would say one should experience a cross country culture if not any other country due to cost measures. Travelling to these countries is very cost effective while it will give you a lifetime experience. If you want to cross border of India by the Indian Railways then get your passports and visas ready. You can get all the details of trains using the train numbers provided in this article on Trainman. And now if you want to book train ticket just download Trainman app and book train tickets in 3 easy steps. Download Trainman App now .