The dark, endless expanse of outer space has long been a subject of immense fascination for many of us. The act of contemplating what lies beyond serves to ignite neverending spirals of thoughts in our minds and gives rise to various beliefs.
The truth is somewhere in our hearts most of us wish to know and understand how all of this came to be. This burning desire leads us to the question of the origins and nature of the universe.
Stargazing has long been a fascination of Indians and goes all the way back to the ancient era. In modern times the country has carried on this fascination and there are several excellent observatories all across, that allow researchers and casual enthusiasts alike to survey the vast expanse of outer space.
Here are some of the best renowned astronomical observatories in India.
Kodaikanal Observatory (Kodaikanal, Tamil Nadu)
Kodaikanal is a popular hill station where the Kodaikanal Astronomical Observatory is located, in the Palani Hills Region of Southern India. Originally known as the Madras observatory, it was first opened in 1899. The Indian Institute of Astrophysics currently operates the Kodaikanal Observatory.
(Image Credit: TOI)
The Evershed effect, an essential solar phenomenon was first discovered from data obtained at this observatory in 1909. The discovery propelled its status as a premier solar physics lab in India. The conclusions of the study were so comprehensive that little was added to it for at least another century.
The Kodaikanal Observatory also houses an on-campus astronomy museum where artefacts such as solar pictures and models are on display. The museum's highlights include the live solar image and Fraunhofer Spectrum which is the visible colour spectrum of the sun.
A library on the premises boasts a rich collection of important archives and astronomical literature.
Visit Timings
Monday To Sunday (Open on all public holidays also)

09:30 To 12:00 Hrs

14:00 To 16:30 Hrs

18:30 To 19:30 Hrs (Night Sky Watch)
Getting Here
Udaipur Solar Observatory (Udaipur, Rajasthan)
Another great place in India to study solar physics is the Udaipur Solar Observatory which is built on an island that makes it an excellent spot for this purpose. This is because the air turbulence on an island is less when compared to the ground on a mainland, thereby allowing shaper images of the solar system.
(Image Credit: Udaipur Tourism)
The observatory was built with the sanction of the Veshala Trust in Ahmedabad and the supervision of Dr. Arvind Bhatnagar. In 1981, the facility was deputed by a government association known as Physical Research Laboratory in Ahmedabad to carry out the research of the Department of Space.
The Udaipur Observatory has been modelled after the solar observatory in Big Bear Lake, California. The observatory is equipped with numerous excellent telescopes including the GONG Telescope, and Razdow Telescope. These telescopes provide comprehensive details about solar flares and mass ejections and high-resolution images of active solar regions.
An important note for visitors is that prior booking is required to visit the Udiapur Solar Observatory.
Visit Timings
Getting Here
Starscape Observatory (Ooty, Tamil Nadu)
Nestled within the cosy tea gardens of Nilgiris, this observatory first opened its doors in 2021. It is roughly halfway between Ooty and Coonoor and equally accessible from both towns. The Starscape Observatory is an excellent facility for an all-rounded view of outer space.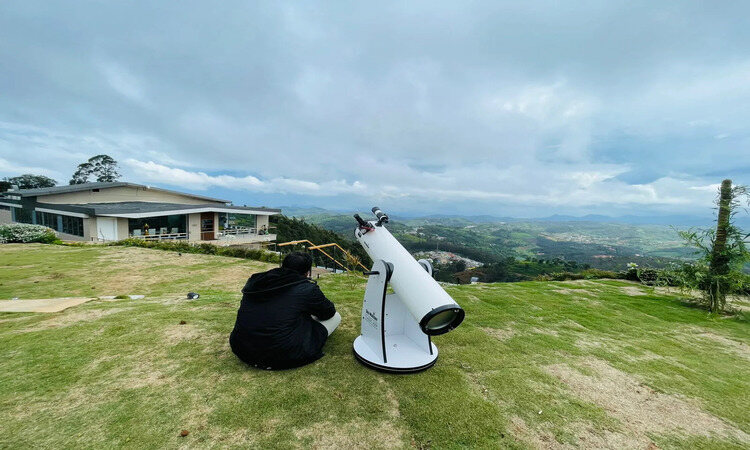 (Image Credit: India Education Diary)
This facility is particularly friendly towards tourism, featuring numerous excellent guided programs. These programs allow visitors to learn more about the cosmos in a simple yet comprehensive manner.
Visitors will get to explore the night sky in a 45-minute guided tour that will take you across the moon, the stars, and the planets. You will learn all about the science of astronomy and how to identify various constellations and other celestial bodies in the night sky.
There is also a crash course in rocket science to look forward to where you will even be able to customize and design your very own rocket. There are mainly two types of rockets that will be covered in this crash course.
These are Hydraulic Rockets, launched using water pressure, and Stomp Rockets, launched using air pressure. What's more, you can even purchase and take home your very own Stomp Rocket Kit!
While Ooty does have its own railway station, it does not connect directly with most major cities of the country.
Getting Here (Nearest Station - Coimbatore)
Giant Metrewave Radio Telescope Observatory, Khodad, Maharashtra
Located in Khodad, a town roughly 80 km north of Pune, the GMRT Observatory features a collection of 30 fully steerable parabolic radio telescopes. The telescopes, each measuring 45 metres in diameter, facilitate observation at meter wavelengths.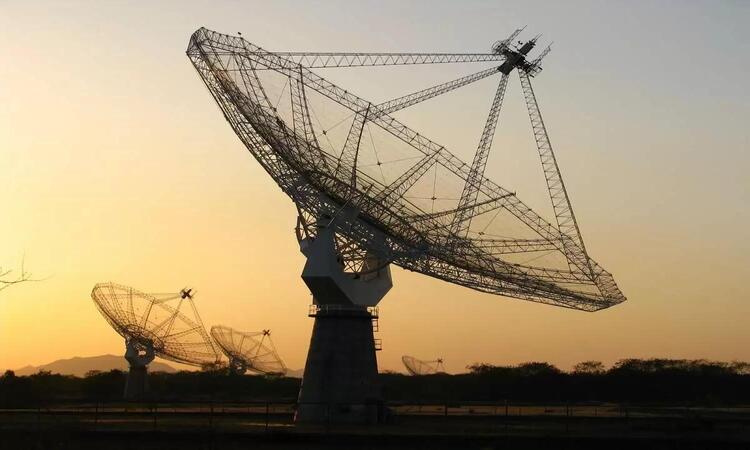 (Image Credit: Pune Mirror)
One of the functions of the telescope is to search for redshifted 21-cm line radiation from primordial neutral hydrogen clouds. For the average layperson, a redshift refers to the phenomenon that takes place when heavenly bodies move further away from us resulting in a red-colored trail behind them.
The GMRT Observatory has been used by scientists and astronomers from all across the world to make a variety of cosmological observations. These include pulsars, galaxies, solar winds, and supernovae. In fact, the most distant known galaxy, located about 12 million light years from Earth was first spotted from this observatory in 2018.
Visit Timings
Fridays

10:00 Hrs to 12:00 Hrs

14:00 Hrs To 16:00 Hrs
Getting Here (Nearest Station - Pune)
India: Astronomy's Rising Star
India has made great strides in terms of development thus making its mark in the field of science and technology. The talent of Indians in the field is not new by any means and has been progressing profoundly over the years.
The trend continues to this day and all of the observatories we have covered are a clear testament to this. They have showcased the keen interest of Indian scientists in further study while also being a stepping stone in the country's quest for new knowledge and advancement in technology.
The observatory also houses a very extensive collection of solar data, dating back to the 19th century. Its location is also ideal for accurate observations of cosmic phenomena, especially those related to the sun. The team manning the stations uses the latest equipment such as a broadband seismograph, and a high-frequency doppler, among many others.