In recent years, the Indian Railways has taken steps towards making their trains more disability-friendly. Some of the measures include the installation of ramps at stations to assist wheelchair users in boarding and disembarking the train.
Additionally, trains now have designated seating areas for passengers with disabilities along with disability-friendly toilets. Moreover, some trains are equipped with wheelchair lifts, Braille signage, and auditory signals for the visually impaired.
These initiatives have undoubtedly made train travel more accessible for people with disabilities, but there is still more that can be done to ensure that all passengers have a safe and comfortable journey.
In this blog, we will explore the current disability-friendly options available on trains in India that make train travel more accessible for people with disabilities.
Train Reservations
Special train reservation facilities and features have been introduced specifically for differently-abled passengers which include:
Differently-abled people travelling on disabilities concessional tickets have been given a special reservation quota for all trains running in non-suburban sections. Any person travelling along with the differently-abled person will also be allotted a berth through this quota.

Based on the availability of accommodation, one lower berth and one middle or upper berth will be allotted to the differently-abled passenger and the accompanying person respectively.

Train Ticket Examiners and conductors are authorized to allot any available vacant lower berths to differently-abled passengers travelling on differently-abled concessionary tickets.

As per the instructions of Indian Railways, all SLRD coaches in all express and mail trains will be treated as unreserved coaches to be used exclusively by differently-abled passengers. On Garib Rath Express trains such coaches have been reserved to be booked for differently-abled passengers travelling on handicapped concession tickets. The full fare for AC3 class on Garib Rath Express is to be paid and tickets will be given on a first-come-first-serve basis.
Separate Counters At PRS Centres
Various Passenger Reservation System centres have been earmarked for handling reservations by differently-abled passengers, Senior Citizens, accredited journalists, Ex. M.Ps, MLAs/MLCs, and freedom fighters.
Special Coach Design
Special coaches like SLRD/SRD coaches have been designed with the aim of providing facilities designed specifically for the benefit of differently-abled passengers on trains.
SLRD/SRD coaches with suitably designed compartments along with toilets adapted to the requirements of differently-abled passengers have been manufactured by the Indian Railways. At least one such coach has been planned for all express and mail trains.

Disability-friendly compartments and toilets have been provided in fully air-conditioned Garib Rath Express trains.

Wheelchair-borne passengers in SLRD coaches have been provided with wider entrance doors, wider berths and wider compartments.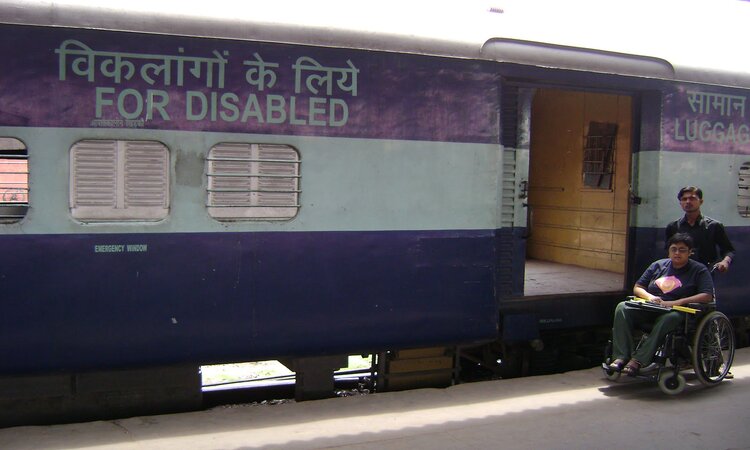 (Image Credit: Twitter: Ministry of Railways)
Additional facilities for differently-abled passengers on SLRD coaches include a larger lavatory and lavatory doors and space for the provision of a wheelchair.

Grab rails have been installed inside the toilets and on the side walls for support. The lavatories also each have a mirror and a wash basin at a lower height.
Signages
The provision of Braille signage has been mandated in passenger coaches to facilitate visually impaired passengers.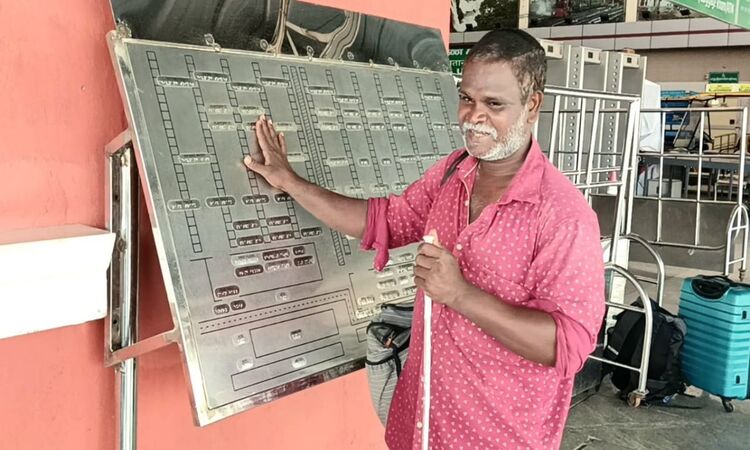 (Image Credit: India.com)
Railway Stations Amenities
The Indian Railways have provided short-term facilities for differently-abled passengers at Railway Stations to enable better accessibility which includes:
Barrier-free entry via Special Parking lots for vehicles used by the differently-abled.

Installation of non-slippery walkways from the parking lot to the station building.

Installation of appropriately visible signages.

A minimum of one water tap specifically for differently-abled passengers.

A minimum of one toilet on the ground floor.
Additional Facilities
All important railway stations of the Indian Railways have been equipped with facilities for differently-abled passengers such as wheelchairs.

Differently-abled passengers and senior citizens are provided with battery-operated cars at 34 major stations to facilitate their boarding/alighting along with their baggage.

Differently-abled people will have 25% of the PCOs at railway stations reserved for them.

Special sensitization training has been given to RPF personnel to render assistance to differently-abled passengers to ensure a comfortable journey.
Battery Operated Car or Buggy Service
To assist older individuals, medical patients, and people with disabilities, several major railway stations in India offer a battery-operated Platform car service known as Buggy services.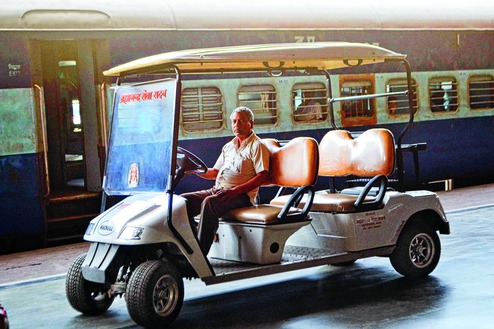 (Image Credit: autop.be)
Bengaluru Railway Station was one of the first stations to introduce Buggy Services or Platform Cars, beginning in 2006. Since then, the service has been extended to numerous other railway stations nationwide.
How to Avail Buggy Service
At most stations, you will notice prominent boards featuring phone numbers for passengers to call and book Buggy services. These contact numbers can be found on the official website of the Indian Railway (IRCTC), enabling passengers to make their reservations effortlessly through a simple phone call.
The availability of cars for Buggy Services or Platform Cars at railway stations operates on a first-come, first-served basis unless seats have been pre-booked. Passengers can conveniently book the service by contacting the number provided on the IRCTC website. The ticket cost for these services ranges from Rs 40/- to Rs 50/- per person.
E - Wheelchair Services at Railway Stations
Passengers at selected railway stations can benefit from the E-Wheelchair service, which allows them to easily book wheelchairs for sick individuals, senior citizens, handicapped individuals, and passengers in need. This service is specifically designed to enhance the travel experience and provide necessary assistance to those who require it.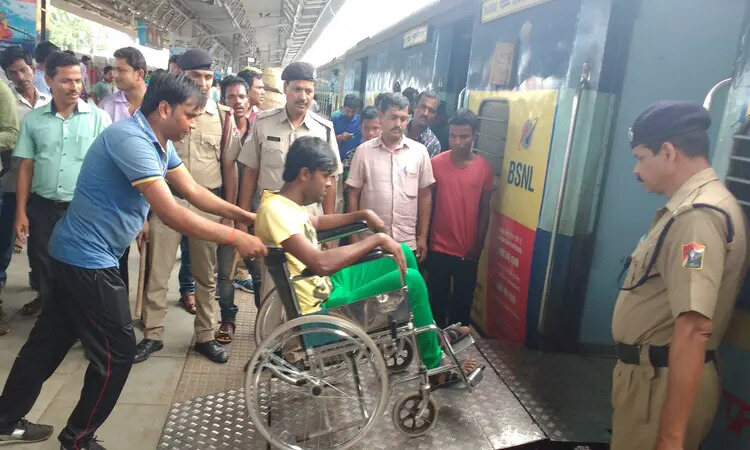 (Image Credit: Times Of India)
How to avail E - Wheelchair Services at Railway Stations
Passengers with valid confirmed RAC/Partial WL reservation tickets can make wheelchair bookings through the website.

Wheelchairs are provided free of charge, subject to availability on a first-come, first-served basis with the booking voucher.

Wheelchairs should be collected and returned to the designated Collection Center at the railway station.

Passengers or their attendants must deposit Rs. 500/- in cash and provide a valid government-approved identity card, which will be returned upon returning the wheelchair.

The E-Wheelchair service does not include any additional facilities.

Only one booking is allowed per PNR (Passenger Name Record).
Conclusion
It is heartening to see the Indian Railways taking steps towards creating a more disability-friendly transportation system. The installation of ramps, wheelchairs at stations, and accessible toilets on trains is a positive development towards making train travel more inclusive for people with disabilities.