Among the best ways for travellers to experience the local cultures of the places they visit is to explore the local handicrafts. In doing so, they may even take with them a souvenir of their visit. Moreover, browsing around the markets and having a gander at such handmade wonders can be a journey in itself.
In searching for the best bargains, you may end up getting a lot more than you bargained for. The handicrafts themselves give away a lot about the place you are visiting as well as their creators. You will also get the opportunity to mingle with the locals and other travellers, as you shop.
Perusing handicrafts is an art by and of itself that is best practice in parts of the country where community markets offer a wide range of choices. Be it traditional artistry or more modern offerings, these handicraft markets across India give visitors a cultural insight into the destination. Not to mention they allow you to bring along more elegant mementoes than any that can be found at any shopping mall.
Dilli Haat, Delhi
With an ever-bustling crowd of both local and international tourists, this open-air bazaar can easily be considered to be the heartbeat of the capital. Visitors here can expect to find some of the best artefacts that capture the unique experience of Delhi.
(Image Credit: Holidify)
Modelled after the ambience of traditional village fairs, Delhi Haat is also a foodie's haven besides being a shopper's paradise. There are three Delhi Haats across the city: Janakpuri, Pitampura, and INA. Delhi Haat INA which is the most popular among the three is located in the commercial centre of South Delhi, bang opposite the INA Market.
The market is operated and managed by the Delhi Tourism and Transportation Development Corporation (DTTDC) and offers a wide variety of traditional handicrafts including sandalwood and rosewood carvings, metal crafts and many more. You can also find delectable cuisines from various regions across the country including Maharashtra, Nagaland, and Jammu.
Dilli Haat also has an open-air amphitheatre where featuring rural art and folk culture, where cultural events take place daily. Most of all, it is a captivating panorama of culture, arts and crafts, and an ideal spot to capture candid photographs.
Trains To Delhi
Sireh Deori Bazaar, Jaipur
Besides being a hub of historical attractions, Jaipur is also a haven for shopaholics. Almost every nook and corner of the city features numerous fashion outlets and shops. The narrow alleys will lead you to some of the best handicraft markets in the country. And the Sireh Deori Bazaar is one of the most renowned in the city.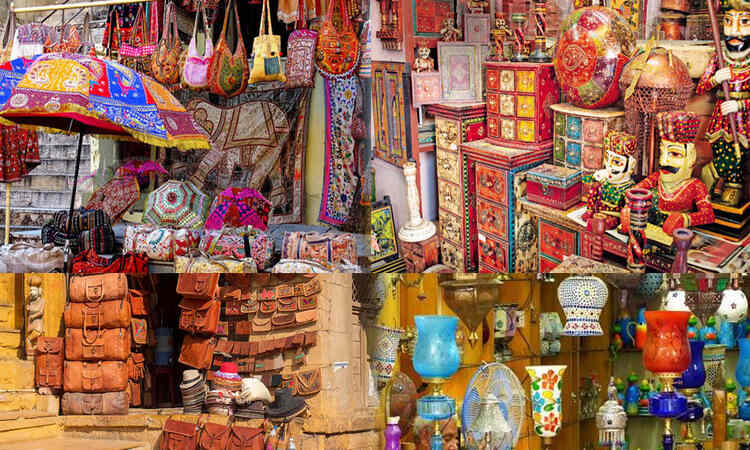 (Image Credit: Jaipur Stuff)
Located opposite Hawa Mahal, the Bazaar is a premiere market for handicrafts in Jaipur. It is named after the Sireh Deori Gate and attracts a wide range of visitors both local and foreign alike. It extends along the walls of Jaipur, beginning at its western gate and ending at its eastern gate.
The bazaar offers a plethora of local items that make excellent gift items and souvenirs. It is renowned for its exclusive products such as leather shoes, Jaipuri quilts, colourful textiles, puppets and delicious snacks. You can also expect to find some of the most beautiful footwear made from regular leather, as well as camel skin.
And besides shopping, the market also gives you an excellent insight into Rajasthani Culture while also allowing you to interact with the locals of Jaipur.
Trains To Jaipur
Kala Madhyam, Bangalore
Kala Madhyam is an NGO promoting traditional handicrafts through sustained and systematic development. Since 2011, the NGO has been hosting an annual fair known as the Kala Madhyam Mela where visitors will be able to take their pick from scores of beautiful and exotic tribal wares.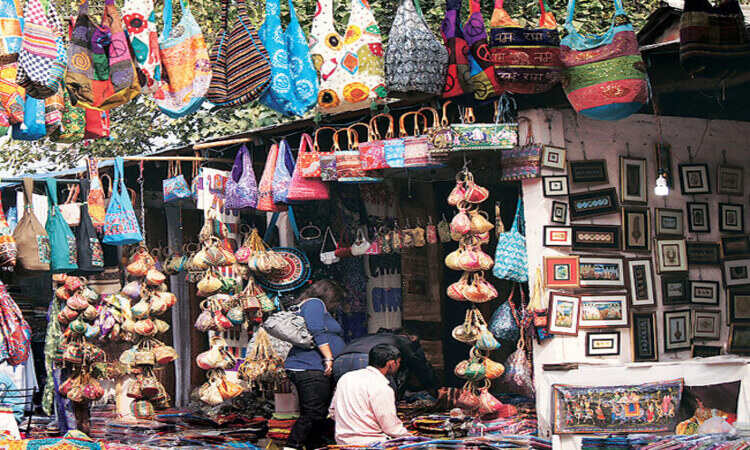 (Image Credit: Travelogy India)
In doing so, Kala Madhyam hopes for the economic well-being of tribal and folk artists from across the country. And prompting their handicrafts is seen as one of the best ways to do this while also fostering global recognition for and collaboration for indigenous arts.
You can expect to find a wide variety of products at the fair such as silver and terracotta jewellery, and apparel made of cotton, silk and khadi. Also regularly on display are crockery and cooking utensils along with ceramic products and old antique pieces.
In the past, some of the fairs have even featured rather unusual merchandise such as old antique furniture and even hand-carved printing blocks. The mela features handmade products crafted by artisans from all across the country.
Trains To Bangalore
Hogg's Market, Kolkata
This world-renowned collection of traders is also known as the New Market. Featuring artists, pot markers and traditional craftspeople, it is truly a sight to behold on your next trip. Amidst the vibrant chaos that the area is known for, you can search for gems like Baluchori (sari) along with exotic street food.
(Image Credit: TOI)
Having survived two devastating fires and regular flooding, Hogg's Market remains one of the main shopping attractions of the city. You can find anything from electronics to wheeled luggage to clothing to a special one-of-a-kind cheese in its stalls.
Besides handicrafts, the market also has stalls selling food items such as vegetables, raw meat, fish, and spices. You can also find crockeries, utensils and even flowers at Hogg's Market. There is an entire section of florist stalls where you can buy some of the most exotic flowers in the country.
Trains To Kolkata
Clock Tower Market, Jodhpur
Shopping and travelling are like a match made in heaven, and this is true while visiting Jodhpur. Formerly known as Marwar, the city is well-known for its rich culture, friendly people, colourful vibes, and traditional artefacts.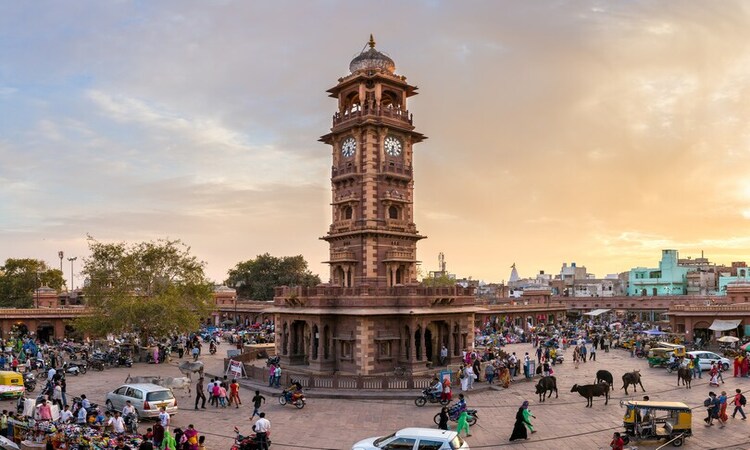 (Image Credit: Japji Travel)
And The Clocktower Market is probably the most renowned shopping attraction in the city. The tower's structure made of sandstone was built at the behest of Maharaja Sadar Singh, while the clock was imported from London. It is widely believed that the clock was provided by the manufacturers of the clocks at Big Ben.
Soon after its construction and the installation of the clock, little shops started to crop up around the clock tower. Over time this desolate place was transformed into a vibrant locality and thriving commercial hub.
Rajasthani handicrafts, spices, ethnic clothes, footwear, souvenir shops, and local food stalls are some of the things the Clock Tower market is known for. The important thing to remember is that if you looking for a bargain, then being adept at bargaining is the key.
Trains To Jodhpur
Conclusion
The handicrafts of India are a testament to its rich heritage perfected through centuries of evolution. They are a reflection of the cultural identity of communities and the people who produce them. Throughout the ages, Indian handicrafts have maintained their authenticity and their exclusiveness.
In recent times their magnificent craftsmanship has caught the eye of many a traveller. This has, in turn, helped provide employment and income to people who are otherwise excluded from the mainstream economy. And besides this, it gives visitors the chance to take home a keepsake of the places they have visited.