The favourite part of the week for most, weekends are a time for relaxation and fun. And better than a weekend is a long weekend, especially because this gives you the chance to pack your bags and head out on a mini vacation.
Everyone is aware of the hectic demands throughout the week. The targets and presentations, and regular client visits can definitely take a toll mentally, if not physically as well. However, the good news is that there are several nearby destinations that bless us with balance so we can return refreshed.
India has many such places that are excellent for weekend getaways, however, for many having a great long weekend holiday is easier said than done. Often, this is because of being unaware of destinations that are economical and where one can avoid crowds.
That's where this write-up will come in handy as we explore some offbeat destinations nearby the country's biggest metropolitan cities.
Orchha, Madhya Pradesh (Long Weekend from Delhi)
Tucked away in Madhya Pradesh, Orchcha lives up to its name which means "hidden". Most people from Delhi would likely not be aware that such a gem lies concealed within an eleven-hour train journey from the city. So, you need not worry about taking leave from work to enjoy this hidden gem.
This historical town on the banks of the Betwa River makes for a perfect weekend getaway from Delhi. It offers visitors a travel experience that is a bit laid-back, a bit spiritual, a bit historical, and a bit adventurous!
Attractions at Orchha
River Rafting in Betwa River
Upon reaching Orchha, rafting in the Betwa River is definitely one of the things you would try first. The turbulent currents offer you a most thrilling ride you are not likely to forget soon. The grade 1 and grade 2 rapids offer rafting for people of various experience levels.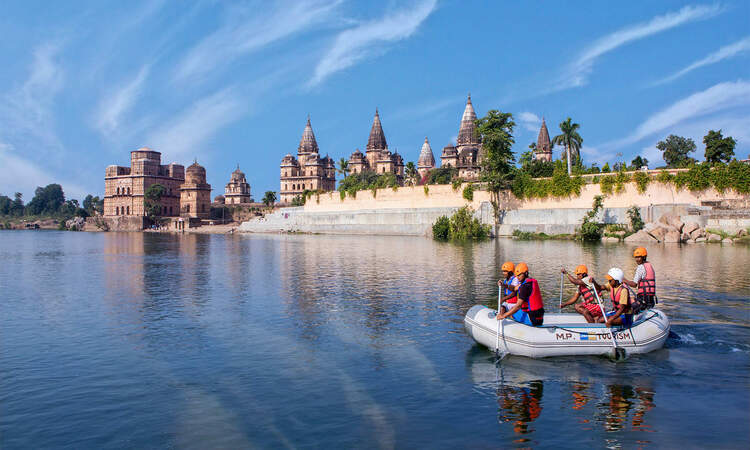 (Image Credit: Thrillophillia)
Orchha Wildlife Sanctuary
The Orchha Wildlife Sanctuary lies within the area where the Betwa River courses. A safari through the sanctuary is an essential inclusion in the list of things to do in Orchha. You will get to explore its exquisite flora and fauna at a leisurely pace.
The biodiversity of the sanctuary includes trees such as Dhawa and Khardhai and wild animals such as blue bulls, spotted deer, and jackals.
Orchha Fort
This architectural marvel built on an island on the Betwa River houses several temples and palaces. You can find three important palaces that encapsulate history in their purest form - Raj Mahal, Jahangir Mahal, and Rai Praveen Mahal.
The Jahangir Mahal features sophisticated architecture that was historically typical in Orchha. The Raj Mahal is among the fort's oldest monuments, while the Rai Praveen Mahal was considered to be the most beautiful among them.
Getting Here (Nearest Railway Station - Jhansi)
Matheran, Maharashtra (Long Weekend from Mumbai)
If you have adventurous tastes, long for the hills, and are based in Mumbai, then Matheran is the place to be. The town stands out from most other holiday destinations in that it is a completely automobile-free town.
It is situated about 800 meters above sea level in the western ghats and is about 90 kilometers from Mumbai and 120 kilometers from Pune. Matheran is an excellent destination for nature lovers with semi-evergreen forests present in the area.
The town was first developed as a hill station by the British during the late 19th century as a summer getaway. It is also the birthplace of Veer Bhai Kotwal, a notable social reformer, and revolution in the Indian freedom struggle.
Attractions At Matheran
Echo Point
Echo Point is one of the more popular places to visit at Matheran and provides a spectacular view of the Sahayadri Mountain Range. As made obvious by the name, the scenic spot is also renowned for its echos and reverberations. The blooming wildflowers and pleasant weather will invigorate your soul while also relaxing your mind.
Panorama Point
Offering a scintillating 360 view of the Western Ghats, Panorama Point is relatively quiet among the spots at Matheran. The aura and ambience during both sunrise and sunset are simply magical.
(Image Credit: LLB)
Porcupine Point
Also known as Sunset Blend, you can expect a blend of quititude and adventure at this hillside. It is a highly recommended part of the wilderness adjacent to Matheran and is sure to be highly exciting for adventure lovers.
Getting Here (Nearest Railway Station - Neral)
Shantiniketan (Long Weekend from Kolkata)
Known to be the treasure trove of renowned Nobel laureate Rabindranath Tagore, the small town of Shantiniketan is located in Birbhum District, West Bengal. Tagore who was among the early members of the Bramho Samaj set up an ashram here in 1863.
The ashram has beautiful artwork by several notable artists including Tagore himself as well as others such as Nandalal Bose. It is also well-visited during festivals such as Joydev Mela, Poush Mela, and Holi.
Shantiniketan's simple beauty and serenity attract travellers and also ensure that many keep coming back for more. Any time of the year is a good time to visit as the town offers a moderate and pleasant climate throughout.
Attractions Of Shantiniketan
Visva-Bharti
The Visva-Bharti University originated as a school started by Tagore modeled after the ancient gurukul system known as Brahmachari Ashram. It was created to allow students to learn in as natural an environment as possible. It has unique features such as open-air classes, one-on-one interaction between students and teachers, and education in self-government.
Amar Kutir
Once a place of refuge for those involved in the freedom struggle, Amar Kutir has been converted into a cooperative society dedicated to promoting arts and crafts. It is located around 15 kilometres from Shantiniketan on the banks of the Kopai River.
Nippon Bhavan
This centre dedicated to fostering better Indo-Japanses relations features a library of books in Japanese as well as English and other languages. In collaboration with Japan Foundation, the centre regularly conducts cultural events featuring several notable scholars and artists.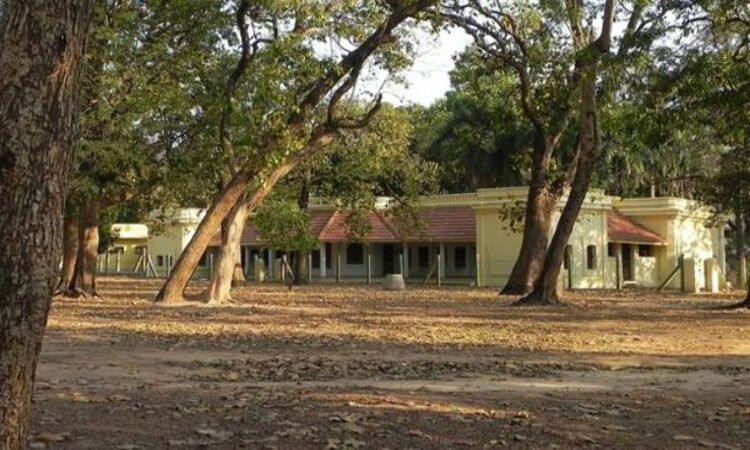 (Image Credit: HelloTravel)
Getting Here (Nearest Railway Station - Bolpur)
Pondicherry (Long Weekend from Chennai)
The former french colony in India is situated between the state of Tamil Nadu in the west and the Bay of Bengal in the east. Much of its language and culture is identical to Tamil Nadu's; Tamil speakers account for most of the population.
The city's architecture bears obvious traces of its French Colonial legacy. This is especially apparent in the part of the town formerly inhabited by the French Colonists. This locality, which is aptly named White Town is adjacent to Rock Beach.
Attractions Of Pondicherry
Promenade Beach
The main beach of Pondicherry began to succumb to erosion from the sea in 1989, however, much of it has been restored more recently, especially on the south side. Today the Promenade Beachfront is one of the most frequented spots in town by both locals and tourists.
White Town Cafes
White Town is dotted with several excellent cafes that are must-visit spots for ardent foodies. Pamper yourself with delectable cuisines that will make your mouth water with the mesmerising fragrance itself.
These mouthwatering treats are of a wide range including pizzas, and pasta to sweet desserts like cheesecakes. Some well-known and highly recommended eateries you might want to check out include Cafe Des Arts, La Maison Rose, and Rendezvous Cafe Restaurant.
Auroville
The world-famous township can be easily reached by Scooty, auto-rickshaw, or share cab. You can take East Coast Road from Pondicherry Town and reach here in about 35 minutes. The pioneers of this township envisioned it as a "Universal Township" where all are welcome. People from all corners of the globe visit and even settle here and make Auroville their home.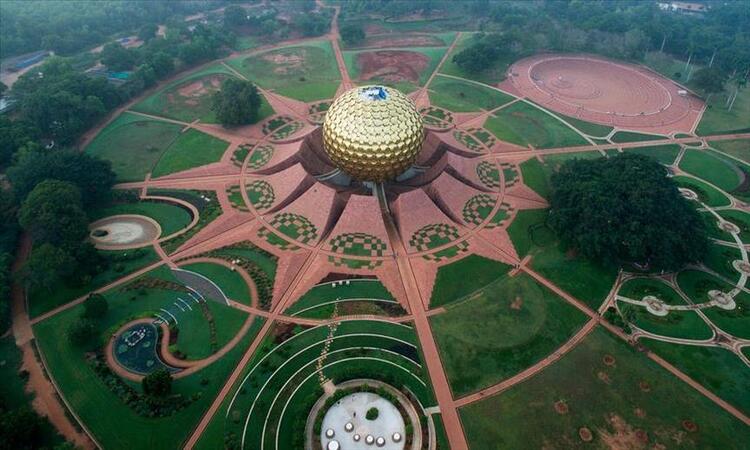 (Image Credit: Anadolu Agency)
Probably the most famous and renowned attraction of the township is the Matri Mandir. This retreat for silence and solace is both located at and considered to be the very heart of Auroville.
Trains from Chennai to Pondicherry
Wayanad (Weekend Destination from Bangalore)
Wayanad is a pleasant hill station situated at a height of about 2100 meters above sea level and makes for a perfect weekend getaway from Bangalore. Visitors here can expect abundant natural life, fresh spices, beautiful caves, and alluring waterfalls.
This natural paradise is a perfect destination for a family holiday, fun with friends, or even a solo trip. Wayanad is a refreshing getaway from the unrelenting grind of urban life. It is also considered to be a trekkers' paradise with many coming here for the adventure of a lifetime.
Attractions At Wayanad
Wayanad Wildlife Sanctuary
Also known as Muthunga Wildlife Sanctuary, it is spread over an area of 344 sq kilometers. The sanctuary is a significant part of the Nilgiri Biosphere Reserve and connects Bandipur Stop and Nagarhole in Karnataka with Mudumalai in Tamil Nadu.
Banasura Sagar Dam
Renowned as making the second-largest rock dam in Asia it is also the largest one in India. Featuring a comforting boating experience, thrilling trekking trails, and picnic spots it attracts vacationers from many locations.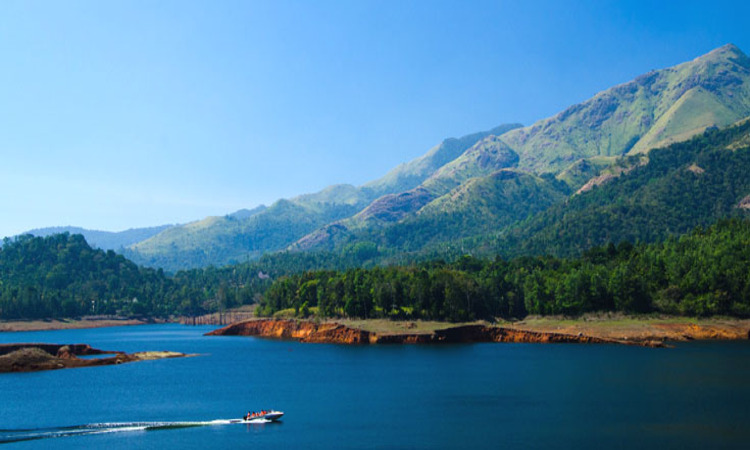 (Image Credit: Just Kerala)
Kuruva Island
Technically a collection of three islands, Kuruva spans 950 acres. It is best known for bamboo boating however, that is not all to look forward to here. You can also indulge in some bird watching and also spot some of the rarest varieties of trees anywhere.
Getting here (Nearest Railway Station - Kozhikode)
Beat The Bustle
While we all know how hectic life in the mainstream especially in metropolitan cities can be, the good news is that there is respite. And the best part is you do not have to wait for vacation time or use all of your precious annual leave for this.
No matter which one of the 5 biggest cities of India, you may live in, a moment in paradise, if only fleeting and temporary is just a hop, skip, and jump away.