Since the debut of Instagram on the social media scene, it has had a profound influence only many travellers. It is often the first app opened upon embarking on a trip or arriving at a destination. It is also used as a means for deciding on a destination.
Many nowadays are in the habit of checking out Instagram pics of various locations before deciding on their itineraries. Besides, offering spectacular beauty, such destinations enable bloggers and Instagrammers to become more popular with their audiences.
And the vastness and diversity of India offer many excellent decisions that each offer their own unique charm. From pristine beaches to magnificent mountain ranges to architectural gems and more, India oozes wonder and magic.
Let's have a look at some of the most spectacular Instagram spots in India.
Darjeeling, West Bengal
Darjeeling is considered by many to be the premiere attraction of West Bengal and not without good reason. The sprawling tea gardens flanked by the majestic Himalayas make you feel as if you have entered a magical fairytale land.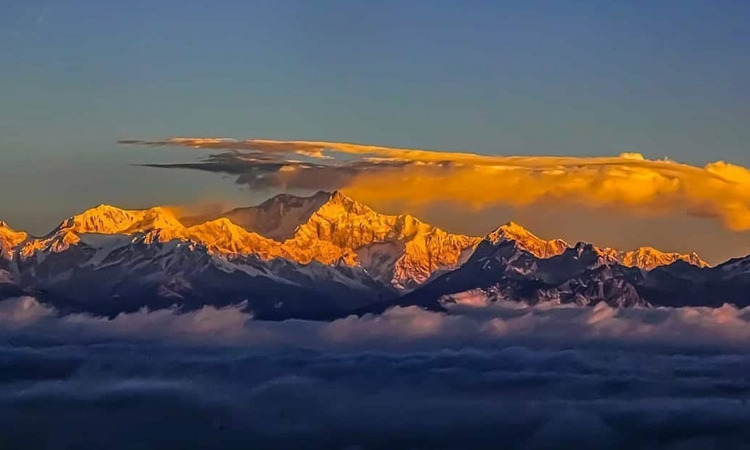 (Image Credit: Elgin Hotels)
And picturesque hill station offers a plethora of options to explore. From roadside markets to Buddhist Monasteries to colonial-era architecture and toy trains Darjeeling is an ideal location for Instagram clicks.
Notable Shoot Locations
Tiger Hill.

Situated at about 8,442 feet above sea level, Tiger Hill is renowned for its breathtaking views of Kanchenjunga and Mount Everest. Tiger Hill is particularly popular for its sunrise view, so this is probably the best ideal time of the day for a photo op.

Peace Pagoda.

Also known as Jalpahar Temple, this Buddhist place of worship was constructed during the 1970s. It is one out of 70 odd pagodas constructed across the world by Nipponzhan Myohoji. The Peace Pagoda is open to visitors every day from 4 AM to 7 PM.

Senchal Lake.

The Senchal Lake in the Snechal Sanctuary is a great place to unwind in the lap of nature. The lake is a watering hole for several wild animals including tigers and elephants.
Best Time for Photo Op
Two parts of the year are ideal to visit Darjeeling. The first is during summer between April to June which is ideal for getting away from the scorching summer heat. The period between October to December is also popular among many travellers when you will be able to catch some beautiful snow.
Both periods also offer visitors several excellent photo-ops. Mornings and evenings before and around sunset are the best times for any kind of photography during the summer. Most travellers and photographers would agree that sunrise is generally the best time for phoo-ops in Darjeeling.
Trains to Darjeeling (Nearest Station - New Jalpaiguri)
Hampi, Karnataka
History buffs from all over the country would want to include Hampi on their list of must-visit destinations. Located in Karnataka, Hampi is an ancient city that has much to offer for photographers and bloggers. It is a hotspot for both nature photography as well as capturing some stunning historical architectural marvels.
(Image Credit: Flickr)
Hampi is home to numerous ancient ruins and temples that give you a good insight into its past and the history of the region. It boasts numerous ancient temples such as the Virupaksha Temple, the Achyutaraya Temple, the Lotus Mahal, and the Vittala Temple. Besides temples, Hampi also has many other ruins and also boasts some fantastic rock-cut art.
The local life and culture of the town also present you with several options for some great captures for your blogs or Instagram profile. Nature photographers can have a ball capturing such picturesque spots as Sunset Point, Matanga Hill, and Hemakuta Hill.
The numerous boulders dotting the ancient town present excellent photo-ops for nature lovers and adventure enthusiasts alike. Hampi is a well-known and popular destination for bouldering (a form of rock climbing on boulders instead of hills or mountains). And as one can imagine, this exciting adventure sport makes for some excellent Instagram clicks.
Notable Shoot Locations
Matanga Hill:

One of the best vantage points in the ancient city, Matanga Hill offers a panoramic view of the surrounding landscape. A climb up to the top of the hill will allow you to easily capture many parts of Hampi along with its magnificent sunrise and sunset.

Vittala Temple Complex:

This UNESCO World Heritage site is one of Hampi's most renowned landmarks. The complex features intricately carved pillars and stunning stone chariots making it an ideal spot for photography.

Tungabhadra River:

The Tungabhadra River which flows through Hampi offers spectacular views of its surrounding landscapes. Visitors will be able to snap photos of the river from the banks or you can opt to take a boat ride that will give you some interesting angles and perspectives.
Best Time for Photo Op
The best time of the day for photo ops depends on the kind of pics you are planning to click. Landscapes tend to be best captured in the early hours of the morning. The warm, soft rays of the morning sun make the hills and surroundings look particularly picturesque. Additionally, you will be able to avoid crowds and get people in your shots.
Late afternoons and nighttime are good for capturing ruins and monuments. The bright golden sunlight of this time of the day greatly enhances the photogenic beauty of the buildings and sculptures. And like the early mornings, afternoons also tend to be less crowded.
Cloudy days also offer some great photo ops since some very dramatic lighting conditions can be seen on such days adding great texture to the sky. Additionally, the clouds help diffuse the sunlight resulting in more vibrant colours in the pics.
Trains to Hampi (Nearest Station - Hospet)
Rann Of Kutch, Gujarat
The vast, white expanse of salt desert that is the Rann of Kutch in the western state of Gujarat is certainly an Instagrammers dream come true. Its unique landscape, wildlife, and culture make for some photo ops few other places in the country or the world for that matter can match.
(Image Credit: SOTC)
The vast expanse of white salt desert is perhaps one of the most distinctive features of the Rann Of Kutch. The featureless, flat terrain creates a surreal atmosphere that is ideal for photography. You will be able to easily capture the most stunning, captivating pics of the sunrise and sunset here. The lack of obstruction on this flat terrain will enable you to capture the full range of colours of the rising and setting sun.
The region is also home to a wide range of wild animals and birds, such as the Indian wild ass, flamingos, and other migratory birds. The local culture of The Rann Of Kutch is known for its richness and diversity. Capturing the vibrant festivals and celebrations along with the day-to-day lives of the diverse communities residing here make for some unparalleled pho ops.
Notable Shoot Locations
Kala Dangar.

Also known as Black Hill, Kala Dangar is the highest point in the Kutch region where one can experience breathtaking panoramic views of the Rann. The hill is also a holy site and is home to a small Hindu temple.

Dhordo.

Dhordo is a small village known for its unique handicrafts and architecture located near the Rann Of Kutch. Visitors here will find several photo ops including capturing the intricate and colourful designs of local handicrafts.

Wild Ass Sanctuary.

The protected sanctuary is home to the endangered Indian wild ass. Instagrammers and bloggers will find a lot to capture here including wildlife and the unique landscape of the region.
Best Time for Photo Op
The crack of dawn just before sunrise is ideal for capturing the soft colours of the sky. This time is also ideal for capturing the desert itself as its white slat appears to glow under the soft sunlight. During sunset, the desert takes on a golden hue that offers a stunning backdrop for your pics.
A unique phenomenon offered up by the Rann of Kutch that is excellent for any kind of photography is the so-called "Blue Hour". This is the time just after sunset and just before sunrise during which the sky takes on a deep blue hue.
The clear night skies of the Rann create the best opportunities for some stunning astrophotography. Additionally, the lack of light pollution makes it very easy to capture the most spectacular shots of the Milky Way and other celestial objects.
Trains to Kutch (Nearest Station - Gandhidham)
Coorg, Karnataka
Also known as Kodagu, Coorg is a beautiful district in Karnataka known for its coffee plantations, lush green forests, rolling hills, and scenic beauty. The scores of plantations with their aromatic coffee plants provide a beautiful backdrop for some excellent photography.
Coorg is also home to stunning waterfalls such as the Irupu Falls and the Abbey Falls. These waterfalls are especially great for photography during the monsoons when the water flow is at its peak.
(Image Credit: Resorts Coorg)
There are also plenty of scenic landscapes such as the surrounding mountains and hills that are also excellent for trekking and hiking. The forests and wildlife sanctuaries such as Brahmagiri Wildlife Sanctuary and Nagarhole National Park are home to several exotic wild animals.
You can also find several Tibetan Buddhist monasteries such as Bylakuppe's Namdroling Monastery. These monasteries with their intricate murals and colourful prayer flags offer a unique setting for photography.
Notable Shoot Locations
Abbey Falls:

Situated 1 km from the town of Madikeri, this waterfall is renowned for its natural beauty. Formerly known as Jesse Falls, it is a popular spot for picnics. Extending across the falls is a hanging bridge that is an amazing sight to behold.

Nisargadham:

An island formed by the Kaveri River, Nisargadham has now been turned into a tourist attraction and features a deer and rabbit park and an orchidarium. One of Coorg's Finest lung spaces, it offers mixed foliage of sandalwood, bamboo, and teak growing abundantly along the river.

Namdroling Monastery:

Visited by scores of Buddhist Pilgrims and tourists alike, every year, the monastery is an invaluable Tibetan Buddhist heritage site. Here one can experience a deep immersion in the Tibetan lifestyle along with its architecture and history.
Best Time for Photo Op
The time just before sunrise and just after sunset lend the sky a deep blue hue. This is an ideal time to shoot subjects that are best captured in low light such as monasteries and cityscapes.
The beautiful landscapes of the coffee plantations and the forests along with their wildlife are best captured just after sunrise and just before sunset when the light is warm and soft.
Waterfalls tend to be most photogenic during the mid-day as the sunlight tends to create intricate patterns and reflections in the water during this time. On clear nights, the Milkyway is prominent in the sky at Coorg, making for excellent astrophotography.
Trains to Coorg (Nearest Station - Mysore Junction)
Goa
Goa is an all-pervasive option when it comes to beach destinations and this is applicable to both Indian and foreign tourists alike. While the primary attraction of Goa is the idea of simply relaxing on the beach, many also find it an excellent location for social media photo-ops.
The state is also a popular destination for many professional photographers as well. Whether you are a casual tourist, travel blogger, or professional photographer, Goa has a lot to offer when it comes to subjects for photographs.
(Image Credit: Whatshot)
Notable Shoot Locations
Fountainhas:

This colorful neighborhood in the state capital of Panaji is the old Latin quarter where the Portuguese lived. The former colonial rulers have left their legacy in the tiny lanes where one can find rows of colourful houses and eye-catching staircases. Besides these, there are also plenty of excellent cafes and restaurants that offer you some delectable cuisines besides photo-ops.

Sunaparanta Art Gallery:

The gallery is located in a beautiful Portuguese bungalow in the Plush neighborhood of Altinho, Panaji. It is part of the popular Cafe Bodega which is one of the best cafes in town. The decor of the gallery is characterized by an old-world charm that takes you back to simpler, more peaceful times.

Cabo De Rama Beach:

This beach which is about 53 kilometers south of The Goa International Airport is among the best beaches in South Goa. The clean, stunning beach with clear blue water provides bloggers and photographers with several excellent vantage points for excellent clicks, including the Caabo De Rama Fort and the cliff overlooking the beach.
Best Time for Photo Op
Outdoor photography in places such as beaches in Goa is best done in the early morning or late afternoon. These times of the day give you soft natural lighting ideal for clicking the best outdoor photos. Additionally, these are also the best times to avoid dense crowds on the beaches of Goa.
As far as cafes, art galleries, and other indoor locations go, the time of the day would likely make little difference for clicking great photos, since you would be looking at mostly indoor lighting. This is unless you are clicking pics just outside, in the compound, or perhaps by the window inside the building. This being the case it would be a good idea to follow similar timings for outdoor photography.
The only other factor to consider would be the timings of the respective establishments which in the case of Sunaparanta Art Gallery is 10 am to 7 pm.
Trains to Goa
Conclusion
India is a country that offers up rich diversity in terms of culture, architecture, and natural beauty. From the magnificent Namdroling Monastery to the surreal Rann Of Kutch, the country offers a plethora of Instagram-worthy spots.
Whether you are looking for breathtaking landscapes, beautiful handicrafts, or stunning architecture India has it all. So pick up your camera, pack your bags and set out to these best Instagram spots to immortalize some of the most visually stunning locales and moments this beautiful country has to offer.