Yoga and India are practically inseparable. Each year, countless tourists and travellers seeking tranquillity and inner peace flock to this country not only to learn and practice yoga but also to find solace from their busy lives. However, with numerous options available, how does one make a wise choice?
A yoga retreat is a haven where expert instructors lead guided yoga sessions. While some places offer daily classes, others provide comprehensive holiday packages encompassing morning yoga sessions, nourishing breakfasts, and well-organized activities such as nature walks or spiritual gatherings.
Vegetarian meals are typically included as well. Altogether, these yoga resorts offer a splendid opportunity to soothe and revitalize your mind, body, and soul.
We have compiled a list of the 14 most exceptional yoga retreats in India, catering to various preferences, ranging from intense to serene. This selection includes renowned ashrams, yoga shalas, and retreat centres.
Purple Valley Retreat - Goa
If you're a modern yogi who seeks a blend of rejuvenating detox drinks and a Wi-Fi connection, then look no further! Purple Valley offers the finest Ashtanga Yoga experience along with a refreshing departure from traditional yoga retreat venues in India.
(Image Credit: Yogagoa.com)
This retreat warmly welcomes and encourages beginners, making it an exciting destination for those interested in Ashtanga Yoga. The classes are in the afternoon, complemented by self-practice sessions in the morning and evening. Additionally, participants can immerse themselves in kirtans (devotional chanting), embrace a yogic lifestyle, explore pranayama (breathing exercises), and explore philosophical teachings.
Nestled amidst Portuguese houses, tropical forests, and exquisitely landscaped gardens, this retreat exudes a peaceful yet captivating ambience.
What sets Purple Valley apart is its culinary offerings. With two international chefs and an Ayurvedic chef on board, they prepare a variety of meals that cater to different dietary preferences. From nourishing soy burgers to flavorful millet masala, the menu aims to enhance your well-being. Moreover, should you require any assistance, you have the option to consult with massage therapists and Ayurvedic doctors at your convenience.
Trains to Goa
Mysore Mandala - Mysore, Karnataka
This yoga retreat in India is a true gem, seamlessly blending the essence of a traditional ashram with the modern elements of a Western studio. Nestled within a century-old serene house, and adorned with a charming cafe, this yoga centre embodies authenticity on the list of India's Yoga Retreats.
(Image Credit: Holidify)
While the primary focus here is on Ashtanga Yoga, you'll discover a wide array of other yoga styles taught by knowledgeable instructors, including pranayama (breath control), Hatha Yoga, Shatkriya (purification techniques), and back bending practices.
The centre also offers training in Sanskrit Yoga Sutras, enriching your understanding of this ancient wisdom. Moreover, the centre boasts a team of nine highly skilled practitioners, ensuring a comprehensive and expertly guided experience. Additionally, they provide classes on Ayurveda and anatomy, deepening your knowledge and holistic well-being.
Immerse yourself in the tranquil ambience of this retreat and embark on a transformative journey of self-discovery and growth.
Trains to Mysore
Sivananda Yoga Vedanta Dhanwantari Ashram - Madurai, Tamil Nadu
Escape the burdens of everyday life and rediscover the bliss of existence within the serene embrace of a traditional Indian Ashram. Whether you are a novice or an experienced practitioner, rejuvenate your vitality and cultivate a positive outlook through daily yoga sessions.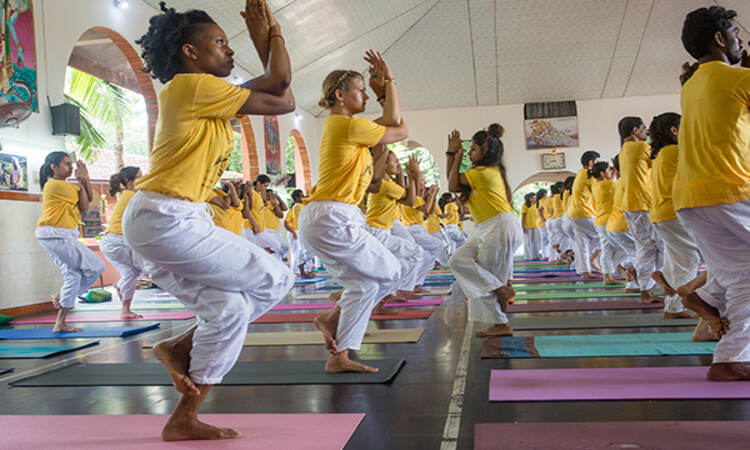 (Image Credit: Sivananda India)
You will enjoy nourishing vegetarian meals, serene meditation practices, enlightening teachings, and devotional rituals deeply rooted in Indian tradition. All of which form an integral part of your stay at the Sivananda Yoga Vedanta Dhanwantari Ashram.
Aligned with the Five Points of Yoga by Swami Vishnudevananda, the program aims to bestow radiant health and inner tranquillity upon each participant. The Ashram's daily itinerary offers ample time for introspection, learning, and relaxation.
Trains to Madurai
Bihar School of Yoga - Munger, Bihar
The Bihar School of Yoga offers much more than a mere yoga practice; it provides a transformative lifestyle where karma takes precedence over asana. Esteemed as one of the prominent Yoga Retreats in India, former students of this ashram affirm that their time spent here has been profoundly life-altering.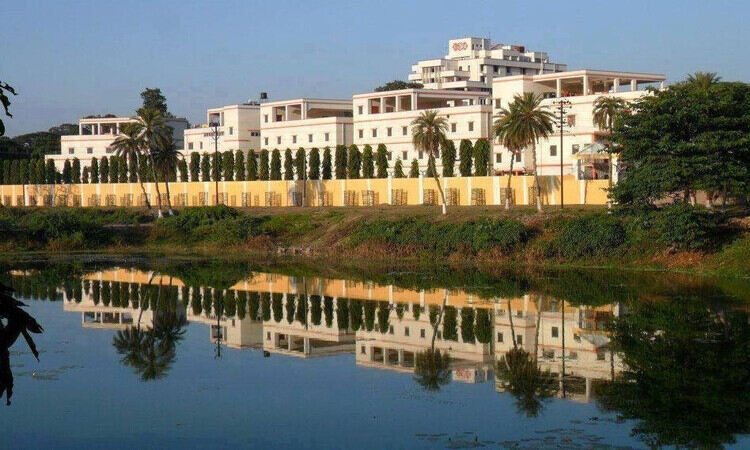 (Image Credit: The Cultural Heritage of India)
A typical day at this ashram begins with the gentle glow of dawn at 4 am and concludes with the tranquil twilight around 6 pm, followed by lights-out at 8 pm. Throughout the day, you will immerse yourself in various yogic practices, Satsangs (spiritual gatherings), and Kirtans (devotional chants).
The ashram offers a diverse range of yoga styles, including Raja Yoga, Hatha Yoga, and Kriya Yoga, enabling you to explore different paths on your yogic journey. Deep meditation sessions are also an integral part of the daily schedule, helping you to still your mind and experience the profound serenity of inner peace.
Swami Satyananda Saraswati, the visionary founder of this ashram, has dedicated himself to creating an environment that exudes peace and harmony, making it one of the most tranquil sanctuaries for practising karma yoga. In this holistic approach to yoga, selfless action and service to others are valued above mere physical postures.
Trains to Munger (Nearest Railway Station - Jamalpur)
Conclusion
With the increasing interest in health, fitness, and wellness over the years, there has also been a curiosity for various spiritual beliefs and traditions. As a result, yoga has seen a significant rise in popularity both in India as well as the world.
For most people today the yearning for wellness along with peace of mind goes hand in hand with the demand for comfort and convenience as well as fun and memorable moments. All of the retreats we have looked at have done the best job of providing these to their guests. A retreat at any of these serene venues is sure to be a most rewarding experience.