India is renowned globally for its profound spirituality, wherein individuals of diverse faiths peacefully coexist while upholding their religious customs. Despite the nation's notable secularism, people strive to lead spiritual lives characterized by forgiveness, purity of heart, and compassion.
The number of pilgrimage sites across the country is so numerous that one hardly knows where to begin. This is because of the wide cultural diversity and also the spiritual beliefs and practices of the people of India.
So, in this blog, we shall look at some of the most notable ones in the subcontinent. Moreover, we are still in the peak of the hot season in most parts of the country. As such, the following spiritual destinations we shall be exploring will offer pilgrims the bonus of escaping the scorching heat of the plains.
Rishikesh
Rishikesh, often referred to as the "Yoga Capital" of India, holds immense religious significance, attracting individuals who seek spiritual growth and meditation. Nestled in this sacred land is Triveni Ghat, where three mountain streams converge, serving as a site for various religious ceremonies and practices.
Beyond its enchanting natural beauty and pilgrimage sites, Rishikesh is also renowned as a hub of adventure. Visitors often engage in exhilarating activities like river rafting, relishing moments of togetherness with their loved ones. Moreover, Rishikesh is home to numerous Ashrams, further enhancing its spiritual allure.
While Rishikesh has its railway station, the number of trains operating from there is limited. Hence, it is advisable to board trains to Haridwar and proceed to Rishikesh from there. Haridwar, in turn, serves as a well-connected gateway to significant Indian cities such as Delhi, Mumbai, Kolkata, Lucknow, and Varanasi, ensuring convenient accessibility to Rishikesh as well.
Best Attractions Of Rishikesh
Karnaprayag
En route to the sacred pilgrimage site of Badrinath, lies the enchanting haven known as Karnaprayag. Nestled amidst breathtaking natural beauty, this location captivates visitors with its verdant greenery and the majestic Alaknanda River flowing with pristine white foam.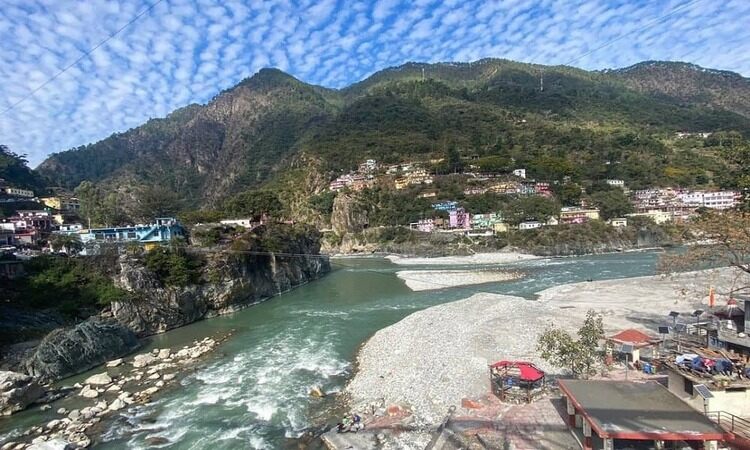 (Image Credit: Rishikesh Day Tour)
Karnaprayag holds a significant place as one of the five confluences of the Alaknanda River, enhancing its scenic allure.
Rishikesh School of Yoga
Rishikesh Yog Peeth is a non-profit organization committed to spreading the timeless wisdom of yoga in a contemporary and inclusive manner. At the core of Rishikesh Yog Peeth's mission is the establishment of a strong foundation of yogic insights, deeply rooted in ancient wisdom, within the hearts and minds of all who seek it.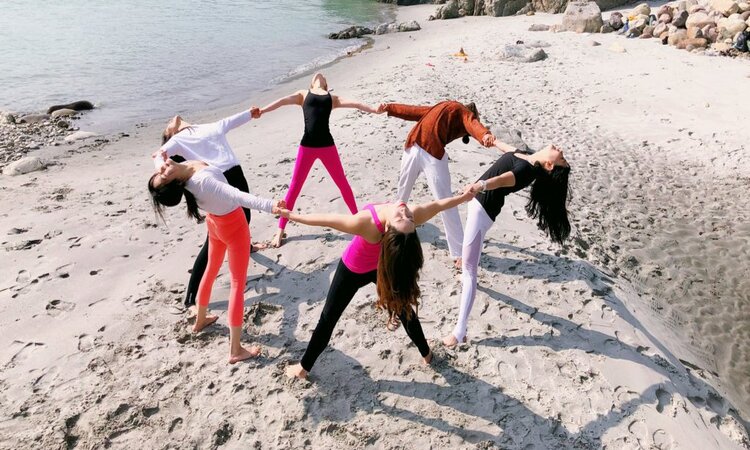 (Image Credit: www.rishikeshschoolofyoga.org)
Renowned for providing exceptional yoga teacher training in Rishikesh, Rishikesh Yog Peeth offers a teaching style that is authentic and straightforward, combining traditional knowledge with modern approaches. It stands as one of the finest destinations for learning yoga in Rishikesh, attracting individuals from around the world.
Trains to Rishikesh (Nearest Railway Station - Haridwar)
Vaishno Devi
When it comes to sacred pilgrimage sites in India, Vaishno Devi invariably ranks among the top five destinations due to its profound sanctity. Second, only to the revered Tirumala Venkateswara Temple in Tirupati, the Vaishno Devi Temple attracts a substantial number of devotees.
People from Jammu embark on a spiritual journey to Katra, where they commence their ascent towards the Vaishno Devi Temple, seeking the divine blessings of the Goddess. Pilgrims from across India and beyond make their way to this hallowed site, drawn by its spiritual magnetism.
Embarking on your pilgrimage? You can commence your journey by taking a train to Katra from any part of the country. Alternatively, you can opt for the convenient Vande Bharat Express, the latest addition to the rail network, offering swift connectivity to this prestigious pilgrimage site from any station, ensuring a seamless travel experience.
Best Attractions Of Vaishno Devi
Vaishnodevi Temple/ Bhavan
Vaishno Devi is among the most revered pilgrimage sites in India, attracting millions of devotees from around the world. During festivals like Navaratri, the footfall can reach up to one crore (ten million). It is believed that the goddess herself calls devotees to visit this sacred place.
The shrine is situated at an altitude of 5300 feet and requires climbing steep hills and cliffs, demanding endurance from the pilgrims.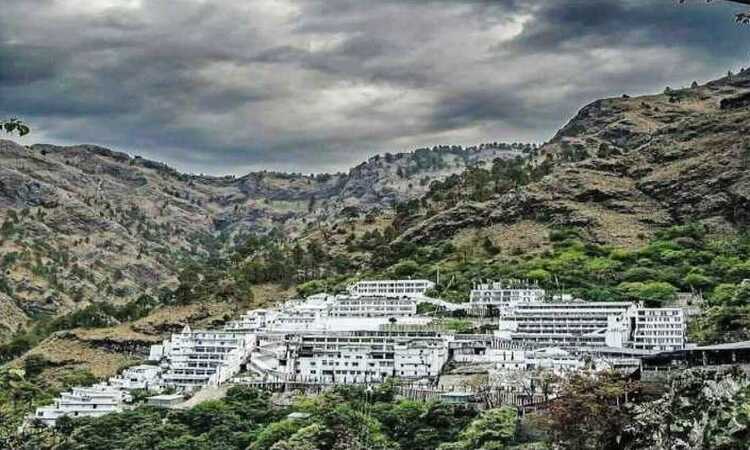 (Image Credit: Tour Travel World)
The temple celebrates several prominent festivals, including Navaratri, a nine-night festival commemorating the goddess's victory over evil, and Diwali, the festival of lights symbolizing the triumph of light over darkness, good over evil, and knowledge over ignorance.
Dera Baba Banda Bahadur
Located in the village of Dera Baba Banda near Katra, at a distance of 28 km from Katra Railway Station, Dera Baba Banda Bahadur is a revered Gurudwara. Situated on the banks of the River Chenab, it is a popular destination for visitors near Katra.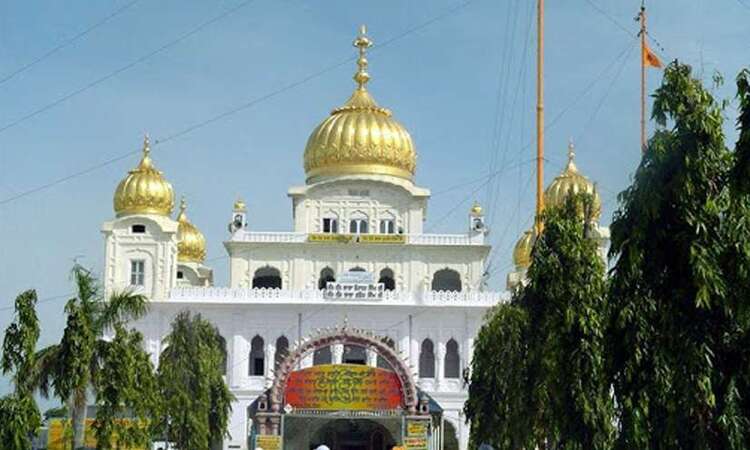 (Image Credit: Tour My India)
Dera Baba Banda Bahadur holds historical significance as it is dedicated to Baba Banda Bairaagi, who was Guru Gobind Singh's beloved disciple. The Gurudwara, which is over 300 years old, is the final resting place of Baba Banda Singh Bahadur, the brave commander of Guru Gobind Singh's army. The complex houses the ashes and relics of this saint soldier.
The Gurudwara is constructed with white marble and showcases impressive architectural designs. The interior walls are adorned with beautiful golden textures. Additionally, a notable feature of the Gurudwara is the 48-foot-tall Nishan Sahib, made from the deodar tree. The picturesque surroundings and lush green landscapes of the village add to the charm of the site.
Trains to Vaishno Devi (Nearest Railway Station - Katra)
Haridwar
Haridwar, an ancient city on the banks of the sacred river Ganga in the Garhwal region of Uttarakhand, is steeped in legends and myths. It holds significant religious importance as one of India's revered pilgrimage sites and serves as the gateway to the revered Char Dham trek, encompassing Badrinath, Kedarnath, Gangotri, and Yamunotri.
Nestled in the scenic landscapes of Uttarakhand, Haridwar is home to renowned temples and shrines, attracting a multitude of devotees from across the nation who seek spiritual cleansing by immersing themselves in the holy waters, purging their sins, and attaining tranquillity and bliss. Beyond its religious significance, Haridwar has evolved into a vibrant cultural and spiritual hub, offering many experiences to explore.
A keen exploration of Haridwar will reveal a tapestry of temples, enriching the spiritual tapestry of Hinduism. Perched atop hills, these ancient shrines offer breathtaking panoramic vistas of the city. Notably, Haridwar holds great prominence as one of the four sacred sites for the grand Kumbh Mela, a momentous gathering that spans five weeks and attracts millions of devotees every 12 years, creating an atmosphere of profound peace and devotion.
Best Attractions Of Haridwar
Har Ki Puri
Har Ki Pauri holds a special place that surpasses other attractions when it comes to exploring the realm of mythology. The early morning ritual of taking a dip in the holy Ganga River, especially during the auspicious months of Shravan, is a truly enchanting spectacle.
(Image Credit: ABP News)
It is at this spot that the mighty river Ganga emerges from the mountains and enters the plains. Har Ki Pauri is renowned for hosting the Kumbh and Ardh Kumbh Melas, which are among the most significant fairs held in the region.
Mansa Devi Temple
Mansa Devi is a revered pilgrimage site that holds immense significance for Hindu devotees on a Haridwar Darshan trip. The shrine is named after Mansa Devi, who is believed to be an incarnation of Shakti and emerged from Rishi Kashyap.
(Image Credit: Rishikesh Day Tour)
Along with the Chandi Devi shrine and Maya Devi, Mansa Devi completes the trio of popular Siddhpeeth in Haridwar. It is a place of great devotion and spiritual reverence for pilgrims visiting the sacred city of Haridwar.
Trains to Rishikesh
Conclusion
India offers many spiritual destinations that attract seekers from all walks of life. The country's rich cultural diversity and deep-rooted spiritual beliefs create a unique tapestry of pilgrimage sites that offer solace, enlightenment, and a connection to the divine.
All of the aforementioned destinations provide a transformative experience, allowing visitors to connect with their inner selves and explore the depths of their spirituality. Whether it is through yoga, pilgrimage, or immersion in sacred rituals, these destinations offer a sanctuary for seekers on their spiritual journey.