Anubhuti coaches are train coaches that are equipped with aircraft like facilities. These coaches have various enhanced features when compared to Executive class coaches of Shatabdi trains. In addition to revamping work under progress by the Indian Railways, new and enhanced anubhuti coaches are all set to replace AC first class Executive Chair Car coaches in some Shatabdi trains. The idea is to give passengers aircraft like facilities in train. Hence 10 anubhuti coaches have been manufactured in first phase. Some of the facilities offered by these coaches include LED reading lights per seat, cushioned leg rests, entertainment screens on each seat.
The 56 seat coach has seating arrangement in 2X2 fashion and is fitted with LED lights to save energy and provide better lighting in trains.
Seats are reclined with comfortable chairs and cushioned leg rests.
LCD screen behind each seat for entertainment of passengers. One can play music or watch movies by a head phone provided by the railways.
USB and mobile charging points are provided in-between two seat joints.
Doors are automatic in anubhuti coach that means no more pushing and pulling heavy slider doors. There is an attendant call button also available above each seat.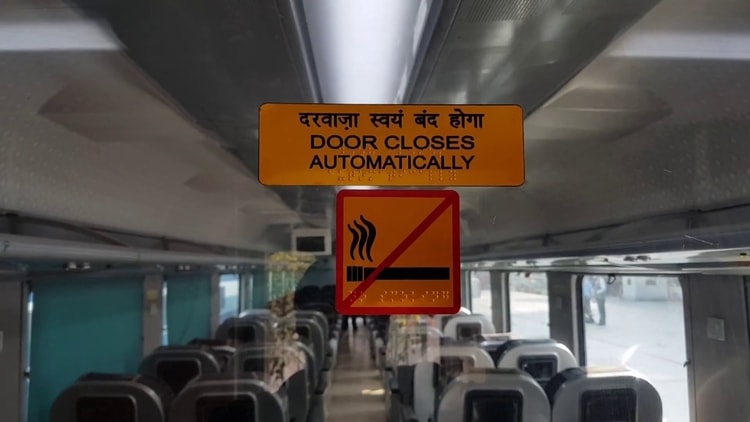 The snack table has found new place in these coaches. It is provided under arm rest which can be opened just by a push button and be placed inside again when not in use.
Passenger information display on middle of coach on both sides which will display important information like next station, speed etc.
The train has been covered with beautiful anti-graffiti vinyl wrapping in areas such as upper luggage racks, bathroom door, doorway area, exterior of coaches etc.
Anubhuti coaches are manufactured by Integral Coach Factory in Chennai and the average cost per coach is said to be Rs 2.84 crore. These coaches might start from December end or by January beginning next year. Hope you've enjoyed the post. Download Trainman App (IRCTC Official Partner) to make your travel experience better and find train between station, to check PNR status, train running status, train enquiry and for Train Ticket Booking online.