If you have been looking forward to a Diwali break but haven't been able to pick a destination yet then here's some help from us. This Diwali plan a trip to the state of Gujarat as the Tent City Kutch is reopening its doors on November 12 just two days before Diwali and will stay open till 28 February. Authorities will take up all the precautionary measures to ensure the safety of the tourists amid the ongoing coronavirus pandemic.
Spread across an area of 7,500 square kilometres the White Rann is one of the largest salt deserts in the world. One of the most happening celebrations of India, the Rann Utsav 2020-21 is going to take place in the white sands from November 12 to February 28. The Rann Utsav takes place at the Dhordo village which is nearly 80 kilometres from Bhuj in Kutch. Rann Utsav not only allows tourists to experience full moon on the barren desert but also lets them get a flavour of the local culture, cuisine and hospitality. More than 350 tents both air-conditioned and non-air-conditioned have been set up at Dhordo village in Gujarat's Bhuj district for guests visiting the White Rann for the Rann Utsav.
Also read: White Desert in India.
COVID Measures in Rann Utsav
In order to keep the coronavirus at bay the organisers have taken a number of measures like:
New cleaning and disinfection procedures with high focus on common spaces such as vehicles, the reception area, dining hall, haat area and adventure sports zone.

Regular sanitisation of whole premises from time to time.

COVID-19 protocol training for staff who need to compulsorily wear face masks and protective gear.

Visitors need to abide by the safety protocols and social distancing measures.
The authorities have left no room for any error so that guests do not have any reason to be worried.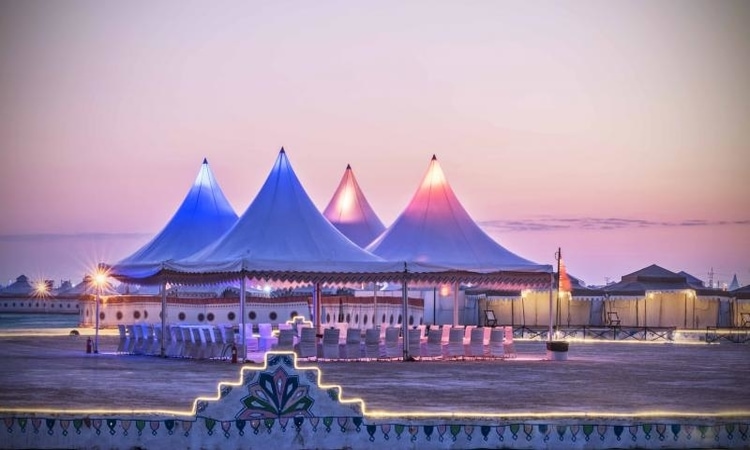 Rann Utsav
The Great Rann of Kutch is a salt mire nestled in the Thar Desert in Gujarat's Kutch District. It is larger than the Bonneville Salt Flats. One of the most anticipated tourist events in India, the Rann Utsav celebrates the natural marvel that's the White Rann of Kutch and the cultural heritage of the region. Since its inception the festival has drawn over 5,00,000 visitors from more than 20 countries. The Tent City alone attracts around 35,000 visitors every year. It began as a three-day festival in 2005 and has evolved into a 100-day celebration at Dhordo. A new Tent City with temporary infrastructure is built and rebuilt here every year for the festivities.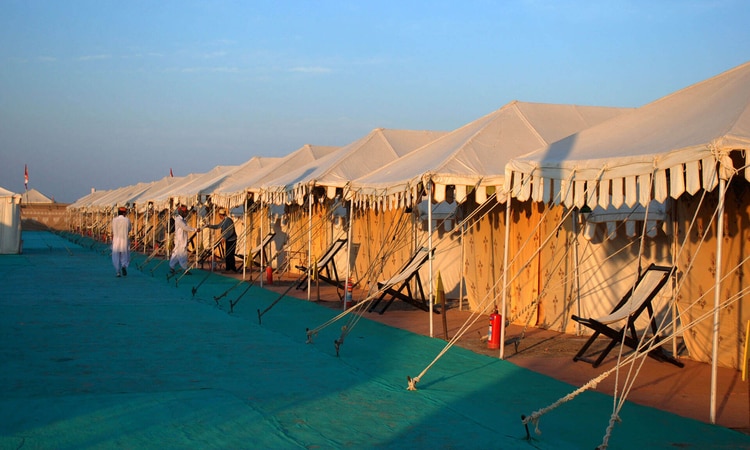 The celebration is marked by several folk performances, singing and dancing. Camping under the starry sky is one of the major attractions. Tourists also get to witness spectacular sunrises and sunsets on the salt desert. Besides witnessing the mesmerising sunset in the salt desert, you can also visit places such as the Kalo Dungar (Black Hill) Siyot Caves, Kutch Fossil Park and many lesser-explored historical monuments. You can also watch artisans at work and buy unique handicrafts directly from them. At the festival you can also take part in adventure activities like skyzilla and paramotoring. For more details visit the Rann Utsav website.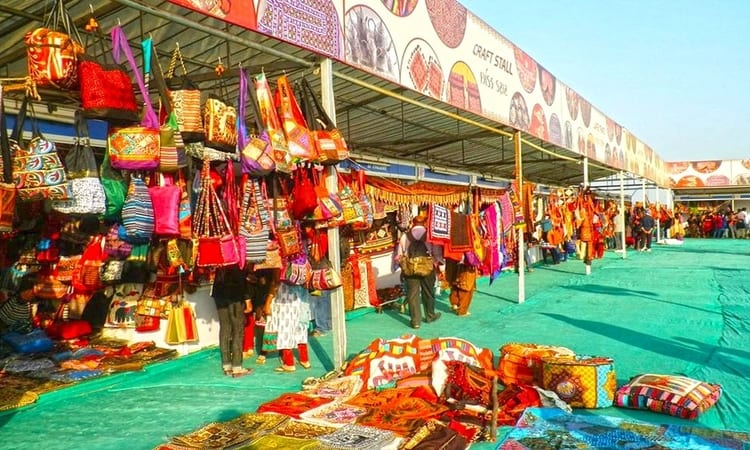 How to reach
Bhuj is connected by Rail, Air and Road from all parts of Gujarat. If you are travelling by air, the nearest airport is Bhuj airport which is 81 km away from Dhordo- the tent city. From there you can hire a cab that will take you directly to the Rann Utsav. Bhuj (BHUJ) is the nearest railway station that is 99 km from the tent city. You can take a taxi from the station to reach here directly. Here is a list of trains between New Delhi and Bhuj.
Now that sounds like a super plan for those of you who are dreading to spend Diwali at home this year. Plan a trip with your friends or family and book your train and flight tickets through the Trainman app (IRCTC official partner). Download the Trainman App and check PNR Status of the ticket booked, Seat Availability in any train, Running Status and a lot more such features.