Gone are the days when train travel was nothing less than a daunting task. Encouraged by 'Accessible India Campaign' launched in 2015 by Shri Narendra Modi, railways are making continuous efforts to provide convenient and accessible train services to differently-abled passengers. In this blog, we will tell you the countless facilities provided by railways for Divyangjans.
SLRD Coaches: A special type of coach has been designed by railways for Divyangjans formerly known as SLRD coaches that are equipped with wider entrance doors so that a wheelchair can easily enter the coach, wider aisles, modified toilets, berths (lower berths for differently-abled and upper berths for attendants). Such coaches are exclusively for PwD category.

Special Counter: Separate counters are earmarked at Passenger Reservation System (PRS) centres for both differently-abled and senior citizens. Also, ticket issuing people are instructed to allot a lower berth to a person with a disability and middle or upper berth to the escorts depending upon the feasibility.

Wheelchairs at platforms: Railways have also provided more than 7000 wheelchairs at 5400 railway stations. The attendants /escorts of Divyangjans can avail the service of wheelchairs at the stations free of cost. In case, an attendant is not there with a disabled person then he or she can hire Sahayaks that are available at platforms on nominal rates.

Yatri Mitra Sewa: Yatri Mitra Sewa is available at the major stations in which a Sahayak is there to help the Person with Disability by providing wheelchair cum porter services. One can book Yatri Mitra services through www.irctctourism.com or through mobile by dialling 139.

Battery operated Vehicles (BOV): Battery operated vehicles are also available at stations. People belonging to PwD category can avail this facility for free at some stations while at other stations, passengers need to pay a requisite amount for the car service. Passengers can either call at 139 or on the numbers given in the pdf to book battery cars.

In addition to this, Short term facilities are also facilitated at stations which includes standard ramp with railing for a barrier-free entry, non-slippery walkway from the parking lot to building.
Earmarking of at least two parking lots for the vehicle used by disabled persons.

Special drinking water tap at the stations for differently-abled persons.

Booths like "May I help you", and at least one toilet facility on the ground floor.

Inter-platform transfer and engraved edges of platforms especially for Divyangjans.
Physically Handicapped quota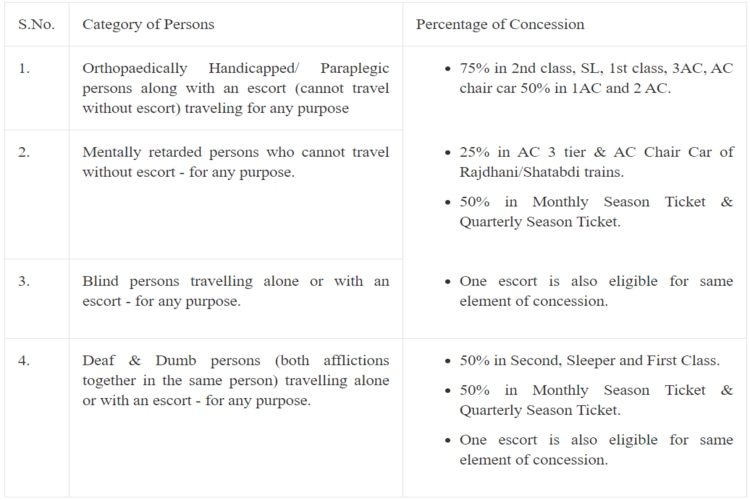 Indian Railways also has a separate quota for Divyangjan passengers known as the Divyangjan quota. In this quota, there are 2 types of berth (consisting of 2 berths, one lower and one middle) both in the same cabin. One is for physically handicapped that can be availed only when accompanied by an attendant while the second is for those for whom it is discretionary to take an escort with them. If a Divyangjan person books a ticket under physically handicapped quota wherein no berths are available then, the system tries and allocates a lower berth to the passenger and middle berth to the attendant which is entirely subject to availability. One can book such tickets both online and from PRS counters. At the time of the journey, it is mandatory for the differently-abled passengers to carry a photo Identity card issued by Railways. To know in detail about the various quota and concessions given by the Indian railways, read the article on Indian Railway Quota.
Don't you think Indian Railway deserves a round of applause for taking such measures for differently-abled passengers? Tell us your views in the comments below. Go ahead and book your train tickets easily with Trainman app. Download Trainman App to check PNR Status of the ticket booked, Running Status, Seat Availability and many such exciting features.