What if we tell you that all you need to do is to reach a place and you'll get to do most of the adventurous things along with the beach, spirituality, and much more? Too good to be true, right? But, there is indeed a place like this, Murudeshwara. Alright…alright, you have a giant wave of questions with you right now, and we are here to help you plan your next trip in the best way possible. So, let us take you on this trip:
Murudeshwara: The Perfect Destination
Murudeshwara is a picturesque coastal town overlooking the Arabian Sea. This holy city is the home to the second tallest statue of Lord Shiva in the world. There are also plenty of diving and snorkeling opportunities in this spiritual town. Along the shores of the Arabian Sea, tourists can enjoy water sports and other adventures along the beaches. It is highly recommended to visit the towering statue of Lord Shiva, along with the Murudeshwara Temple and Raja Gopura for a spiritually rewarding experience.
Murudeshwara is easily accessible by air, bus, and train. It is conveniently accessible by frequent trains since all trains connecting Mangalore and Mumbai pass through Murudeshwara Railway Station.
Places to Visit in Murudeshwara
When in Murudeshwara, you are never out of options, as there are plenty of things to explore here. The place is loaded with magnificent views, shores of the sea, islands to visit and so much more…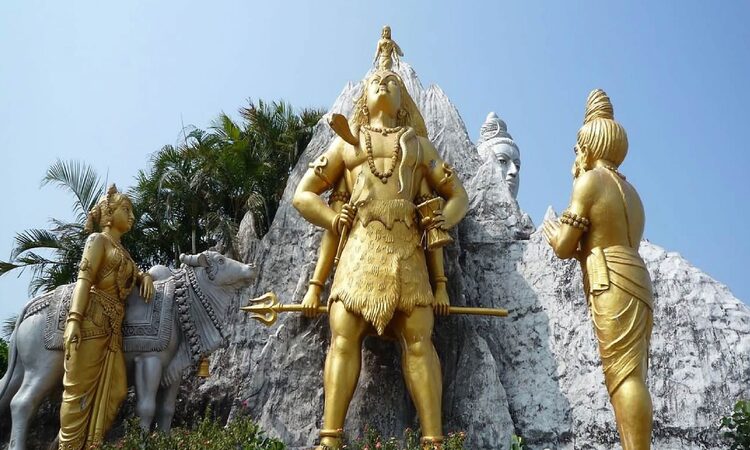 The best place to spend quality time with your family and friends is Statue Park! The park features well-manicured lawns that are adorned with vibrant colored flowers and the striking Shiva Statue which is the second tallest in the world. If you are seeking a place to re-energize your body, then this park is a great choice.
Apart from this, the park even has a number of elegant stone sculptures and a majestic man-made waterfall. The aura of the park will leave you spellbound and the serenity it offers will just add up to the experience.
Timing: 8:00 am to 8:00 pm
The market is dotted with tiny shops, the temple road is a one-stop destination to shop for some traditional souvenirs and handicrafts in Murudeshwar. The Murudeshwar Market is famous for beautiful statues of deities, artificial jewellery, jewellery boxes, wall hangings, souvenirs, handicrafts, etc. at unbelievable prices.
Trainman Tips:
Comfy clothes and shoes will be a plus.

Make sure you have applied sunscreen on the exposed areas of your skin.

A little bargaining at these shops will make the price reasonable.

Murudeshwar Temple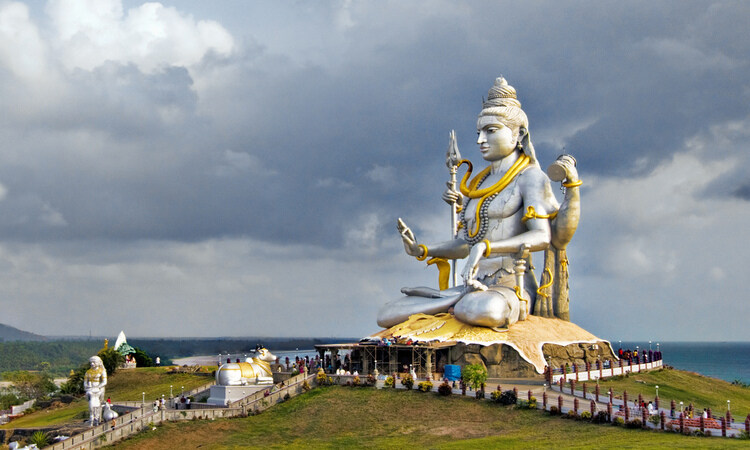 Shri Murudeshwara temple is a shrine dedicated to Lord Shiva and is one of the must-visit spots of the region, making it a prominent array of Murudeshwar tourist places. The temple has the second-highest statue of Lord Shiva in the world and is surrounded by the beautiful landscapes of the Arabian Sea on all sides.
The main entrance of the temple is called the gopura and from here you can gape at the enchanting landscapes of the statue. The most striking feature of the temple is the intricate carvings that are done on the walls. Devotees from different regions travel to this temple to seek the blessings of Lord Shiva and offer their prayers.
Murudeshwar Temple Timings
Days – Monday to Sunday
Morning -- 06:00 AM to 12:00 AM

Evening --15:00 PM to 20:15 PM

Entry Fees --

Free Entry

Famous Pooja -- Rudrabhishekam

Dress Code --

Any decent outfit

Festivals --

Maha Shivaratri

Murudeshwar Beach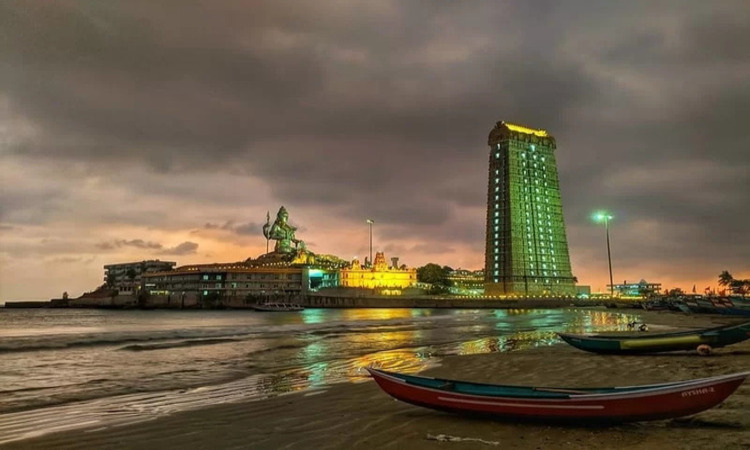 Soak in the tranquillity of one of the most serene places to visit in Murudeshwar the Murudeshwara beach. The beach is an ideal picnic spot and a refreshing getaway for the tourist as it offers a wide range of exhilarating water adventures.
From bird watching to boating business, there is everything at this beach to spend quality time with your friends and family. Something that one must not miss is the sunset view as at this time the sun displays beautiful color and contrasts with sparkling water, which will just melt your heart away.
The beach overlooks the Lord Shiva statue and caters as a perfect relaxing spot. The surroundings of the beach are covered with lush green foliage and the sparkling golden sand is arched by the coconut grooves that add up to the beauty of the beach.
Timing: 24 hours open
Escape the buzzing sound of city life and head to Netrani island, a picturesque island tucked around the striking Arabian sea. The most prominent feature of the island is that it is heart-shaped and owns a wide collection of marine creatures making it ideal for scuba diving and snorkeling.
It is settled 19 km away from Murudeshwar and is an excellent sightseeing spot for visitors. With scuba ding at this island, you can witness some of the rare combinations of underwater species namely butterfly-fish, triggerfish, and several other wonderful corals. The list of adjectives falls short to define the serenity and lure of this island, and this is the reason it is a must-visit locale.
Tour cost: Starting from INR 1200 per person.

Timing: 24 hours open

Raja Gopuram
The 21-story Rajagopuram offers breathtaking views of the renowned Shiva statue. It features two life-size statues of elephants at its entrance.
The gopuram is intricately carved with figurines of gods and goddesses. Head to the 18th floor, accessible by a lift, to catch stunning views of the ocean.
Trainman Tips
The entry fee for the 18th floor is Rs. 10 per person.

The best time to visit the gopuram is early morning.

Don't forget to apply sunblock to the exposed areas of your skin.
More Nearby Places to Visit
If you have planned your journey in a way that allows you to explore what's around Murudeshwara, you will not be disappointed. The southern part of Karnataka never misses an opportunity to amaze you with its mesmerizing places. Some of them are:
Mirjan Fort

Apsarakonda Waterfalls

Gokarna

Baindur
Perfect Time to Visit
The best time to visit Murudeshwara is in the upcoming months, as it is a perfect winter destination.
October-February

March-June

July-September
Festival and Events
As we told you, this city is dedicated to Lord Shiva, thus, the two most important times of the year have a grand celebration here.
Maha Shivratri – February/March

Karthik Purnima – November/December
How to Visit Murudeshwar
There are plenty of transportation mediums available to reach Murudeshwara. If you travel from Delhi and choose to travel by air, you can take the flight to Mangalore International Airport. It is the nearest airport to Murudeshwara, which is located at a distance of 153 km away. You can hire a taxi from the airport or get rental cars that will take you to Murudeshwara. Or, you can choose trains, India's most loved medium of travelling. This route is served by many regular trains.
Train Travel to Murudeshwara
Trains are considered to be one of the most efficient and convenient ways to travel from any part of India. Timing and fare are the main factors that determine travellers' decision to take the train journey.
Travelling from Delhi to Murudeshwara
The train running to Murudeshwara departs from Hazrat Nizamuddin Railway Station (NZM). Since this train runs daily, the train seat availability is sufficient.
12618 - MNGLA LKSDP EXP

: The MNGLA LKSDP Express is the fastest train among the Delhi to Murudeshwara Trains. It Departs at 05:40 am from Hazrat Nizamuddin Railway Station (NZM) and arrives at Bhatkal Railway Station (BTJL) at 08:24 pm. The train covers the total distance in just 1 day, 14 hours, and 44 minutes.
Travelling from Mumbai to Murudeshwara
You can take a train from Mumbai to Murudeshwara, and reach there within a short time. The journey will be comfortable and secure.
16346 - NETHRAVATHI EXP: The Netravathi Express is the first train that runs daily from Mumbai to Murudeshwar. It Departs at 11:40 am, from Lokmanya Tilak Term (LTT), and arrives at Murudeshwara (MRDW) at 02:12 am.

12619 - MATSYAGANDHA EX

: The Matsyagandha Express departs from Lokmanya Tilak Term (LTT) at 03:20 pm and arrives at Murudeshwara (MRDW) at 05:40 am.
If you have made up your mind to experience this spiritual journey, you should not miss Trainman's festive season offers. And, when we say offer, we mean huge savings upon booking IRCTC train tickets using the Trainman app.