The Indian Railway is the world's fourth-largest rail network. Every day, millions of individuals travel to and from their destinations with a lot of luggage. However, due to government regulations, Indian railways do not allow passengers to transport additional luggage or cattle. Are you familiar with this rule? If not, go on to discover more about the IRCTC Luggage Rules, including their limitations, additional fees, and safety considerations.
In different class coaches, passengers can take luggage beyond the free quota in the compartment up to the maximum limit. Anyone who exceeds the luggage limit will be fined at least Rs 30. Furthermore, the luggage limit has been lowered to a limited extent by the railways.
Given below are the IRCTC Luggage Rules for Each Class
| | | | |
| --- | --- | --- | --- |
| Class | Free Allowance | Marginal Allowance | Maximum Limit |
| AC 1-Tier | 70kg | 15 kg | 150 kg |
| AC-2 tier | 50kg | 10kg | 100kg |
| AC 3 tier/ AC Chair Car | 40kg | 10kg | 40kg |
| Sleeper class: | 40kg | 10kg | 80 kg |
| Second Class | 35kg | 10kg | 70 kg |
IRCTC Luggage Rules
The Railways' luggage rules specify that if the sender's address is not specified in English or Hindi, the luggage bag ticket would be cancelled.

For extra luggage, a luggage van must be reserved. In this case, the IRCTC has imposed some restrictions on the packaging of goods. Additionally, unpacked bags will not be accepted at the time of booking.

Any object weighing more than 100 kg and measuring more than 1m*1m*0.7m will be classified as a heavy item and subject to a substantial surcharge. As a result, bulkier items will be subject to a double cost.

In a railway or brake van, explosive substances, dangerous and combustible materials, empty gas cylinders, dead poultry, gas cylinders, acid, and other lethal items are prohibited.

On a train, a traveller with luggage that exceeds the free limit will be charged six times the luggage scale rate. The traveller will be charged 1.5 times the luggage scale rate if the luggage weight is greater than the free allowance but less than the marginal allowance.

Passengers travelling within 1-50 km with luggage weighing more than 1-10 kg will be charged Rs 5. The price is Rs 47 for a traveller travelling the same distance with baggage weighing 91-100 kg.
IRCTC Luggage Rules for Booked Luggage in Freight Trains
30 minutes prior to the train's departure, the owner must be present at the station with booked luggage. Within half an hour of the train's arrival, passengers can pick up their luggage at the destination. If a passenger is unable to arrive at the specified time for any reason, a premium will be applied based on the time.
Theft, Damage, and Lost Luggage Policies of the IRCTC
In the event that your luggage is stolen or looted while travelling by train. You must contact the vehicle's contractor/coach attendant/guard or GRP staff on the spot. They will provide you with the FIR form, which you must complete and submit. Without stopping your journey, the registered complaint will be forwarded to the police station for required action. At major railway stations, you can also approach RPF support desks to file a complaint.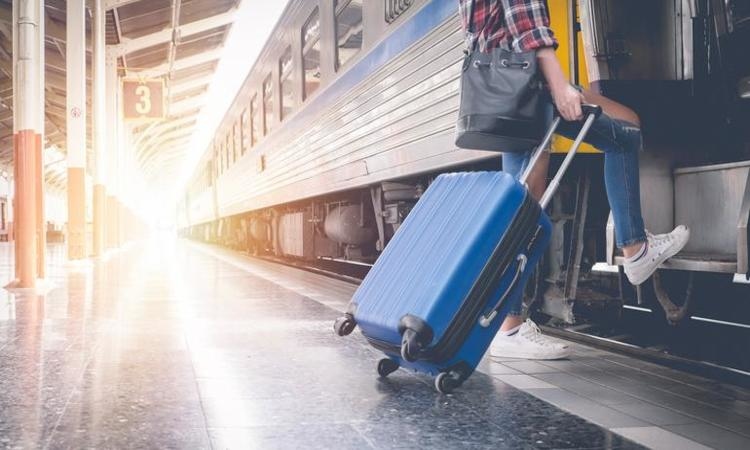 Frequently Asked Question
Are there any luggage limitations on the train?
Yes, there is a luggage restriction on the train that you may not be aware of. The Indian Railway Catering and Tourism Corporation (IRCTC) enforces luggage restrictions on passengers traveling by train in India. Indian Railways accepts bags weighing up to 50 kilograms on the travel. If the weight exceeds the limit, travellers will be charged additional fees for their overweight bags.
According to the IRCTC Luggage Rules, how do I book my luggage on the train?
You can book your heavy luggage at the parcel office, which is located at each station. This heavy luggage could be a fruit box, trunks, suitcase, scooty, or anything else. To book your luggage on the train, go to the Indian Railways parcel office and fill out the parcel form. You will be required to provide ID verification as well as other necessary paperwork to the police.
After you have completed all of the formalities, you will be given a receipt and a packet, which you must keep safe. The package will arrive at its destination in 3 to 5 days. The IRCTC has set restrictions for booking Jewellery in trains only if the owner is familiar with the required paperwork.
Safety Precautions while carrying luggage on the train?
To prevent theft or robbery, secure your bag and tie it via the ring placed beneath the railway seat.

Do not travel with expensive stuff; if you must travel with gold, money, or other valuables, keep them in a tiny bag and place them underneath your head when sleeping.

When the train is moving slowly or leaving a station, avoid going to the restroom. Wait until the train reaches a speed of 40–50 kmph.
With us, you may book trains to any location, class, or train type. You may view information such as train departure and arrival timings, as well as the PNR status of a train between two destinations.
Trainman allows you to book train tickets in just a few clicks from the convenience of your own home. Trainman's online railway reservation is now simple, quick, and safe, so you won't have to wait in long lines for IRCTC tickets.