Ganesh Chaturthi also popularly known as Vinayaka Chaturthi is one of the major festivals celebrated by the Indians across the nation in the honour of the birth of Lord Ganesha. As per the Hindu calendar, this auspicious occasion is celebrated in Bhadrapada month that is August or September, according to the Gregorian calendar. It is a 10-day festival that begins with the welcoming of Lord Ganesha idol at home or in private pandals. This year it falls on September 02, 2019. It ends on Anant Chaturdashi by immersing the idol in a river or sea on September 12, 2019.
Lord Ganesha symbolizes wisdom, fortune, and prosperity. It is worshipped every time before the start of anything new. On this day chanting of hymns, aarti is performed and offerings in prasad in the form of fruits and sweets like Modak as it is considered to be favourite of Lord Ganesha. All states in India commemorate Ganesh Mahotsava but it is celebrated with great zeal and enthusiasm in Maharashtra, Karnataka, Andhra Pradesh, Kerala, and Tamil Nadu. It is one of the major festivals celebrated by Mumbaikars. In Mumbai solely, around 150,000 statues are submerged annually. In this blog, we will tell you how each state celebrates Ganesh Chaturthi in India.
Maharashtra
Maharashtra has its own set of celebrations that commences with "Padya Pooja" (worshipping of feet). Pandals are beautifully decorated with colourful lights and deities. Thousands of worshippers visit pandal and offer aarti to god in morning and evening. Lord Ganesha is offered Durva (young grass), Karanji, Modaks (jaggery and coconut sweet). It also includes other festivals Gauri pooja and Hartalika, latter is observed with a fast by women while former includes the installation of Gauri statues. The conclusion of the celebrations depends on family traditions. Usually, domestic celebration ends in one, three, five, seven or eleven days. Thereafter, the statue of Lord Ganesha is ceremoniously immersed in river or water buckets.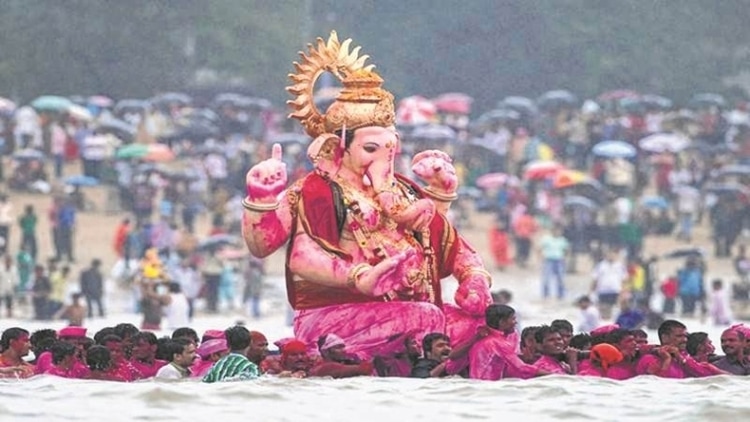 Karnataka
Localites in Karnataka celebrate Ganesh Chaturthi in a very distinctive way. The celebrations start by paying respects to Gauri, mother of Lord Ganesha. People pray to Lord Ganesha and Gauri for a happy and prosperous life. A special offering made during this time is Panchakajjaya which is a mixture of powdered coconut, gram powder, ghee, and sugar. After the conclusion of the worship of the statue, idol is immersed in nearby sea or river on the eleventh day.
Andhra Pradesh
The statue of the Lord Ganesha in Andhra Pradesh is carved of Matti Vinayakudu which means that idol of Lord Ganesha and Siddhi Vinayakudu is made of Turmeric or Plaster of Paris is prayed at home and in public places. In capital city Telangana, Modak and Laddu are offered to God in various forms like Vadapappu (moong lentils) Laddu, Chalividi (rice flour jaggery mixture), Vundrallu (steamed rice flour balls), Panakam (black pepper and cardamom flavored drink) with 21 modaks in each plate. Such delicacies are known as Naivedya.
Kerala
In Kerala, it is known by the name of Lamboodhara Piranalu, which falls in Chingam month as per the Malayalam calendar. In the capital city Thiruvananthapuram, a grand yatra marches from Pazhavangadi Ganpathi Temple to Shankumughma beach along with the idols of Ganesha and further immerse it in the sea or river.
Tamil Nadu
Another name for Ganesha Chaturthi in Tamil Nadu is Vinayaka Chaturthi or Pillayar Chaturthi. It falls on the fourth day after new moon in Avani month as per Tamil calendar. Usually, Ganesha idols are crafted with paper mache or clay as statues of Plaster of Paris are banned by the government. Along with these, idols are also built of organic items and coconut. After the prayers at home or Pandals, Lord Ganesha is immersed in the Bay of Bengal.
Beyond Borders
One such festival which is celebrated with ardour is Ganesh Chaturthi in India and even across the globe. Indian Population who are residing in UK, Canada, USA, Australia setup puja pandals and offer prayer, sweets to the devotees. Though it is known by different names in each country such as in North America, it is popularly known as Philadelphia Ganesha festival. In Malaysia and Singapore, it is known as Vinayaka Chaturthi as it is concentrated mainly by the Tamil speaking Hindu community there.
How do you celebrate Ganesh Chaturthi? Let us know in the comments below. Book your train tickets online through Trainman app with zero agent and PG charges. Download Trainman App to check PNR Status, Seat Availability, Train Running Status and much more.