Tejas Express, India's first private train for Delhi to Lucknow route is all set to be seen on tracks from next week. The train is going to be flagged off on October 04, 2019, by Yogi Adityanath, Uttar Pradesh Chief Minister. The commercial operations of Tejas Express will start from the very next day. It will be running on New-Delhi Lucknow corridor. Bookings for the IRCTC-run train Tejas Express has already started.
The booking for Tejas Express, 82501 Lucknow Jn. New Delhi IRCTC Tejas Express and 82502 New Delhi Lucknow Jn. IRCTC Tejas Express began on Saturday, September 21, 2019. As per the PTI report, the number of passengers who booked the tickets for Lucknow to Delhi is 749 while, from Delhi to Lucknow it has been recorded 1,549 bookings until November 20, 2019.
It is the first train that is fully run and managed by IRCTC (Indian Railway Catering and Tourism Corporation) and a first step towards the privatisation of trains. Bringing up of the private operators was one of the proposals in the 100-day action plan of Modi 2.0 government to provide top-class facilities to passengers.
Ticket Fare
Train 82501 Lucknow-Delhi IRCTC's Tejas Express ticket price will be Rs 1,125 for AC chair car and Rs 2,310 for executive chair car. On the reverse journey, ticket fare of train 82502 Delhi-Lucknow IRCTC's Tejas Express will be Rs 1,280 for AC chair car and Rs 2,450 for executive chair car passengers. Ticket fare from Lucknow to Kanpur is Rs 320 for chair car and Rs 630 for executive chair car. Besides this, fare for Delhi to Kanpur is going to be Rs 1,155 for chair car and Rs 2,155 for executive chair car. The ticket prices of Tejas Express are inclusive of the catering charges. Also, ticket prices are subjected to vary as the train will be operated in Flexi-fare scheme.
Train Route
Tejas Express will cover a distance between Lucknow to Delhi in 6 hours and 15 minutes and will have stoppages at Kanpur and Ghaziabad.
Train Time Table
Tejas Express will start from Lucknow at 6:10 AM and reach Delhi at 12:25 PM. On its reverse journey, it will be leaving from New Delhi at 4:30 PM and reach Lucknow, destination station at 10:45 PM.
Catering Charges
For the very first time, travellers can choose the combo meals aboard, catering charges of Rs 185 for AC Chair Car and Rs 245 for Executive Chair Car are included in the price of ticket for the entire journey (Lucknow-Delhi). The maximum catering charges will be Rs 340 and Rs 385 respectively (Delhi-Lucknow). Meal options are mandatory and passengers need to choose from veg or non-veg options while booking tickets for these trains.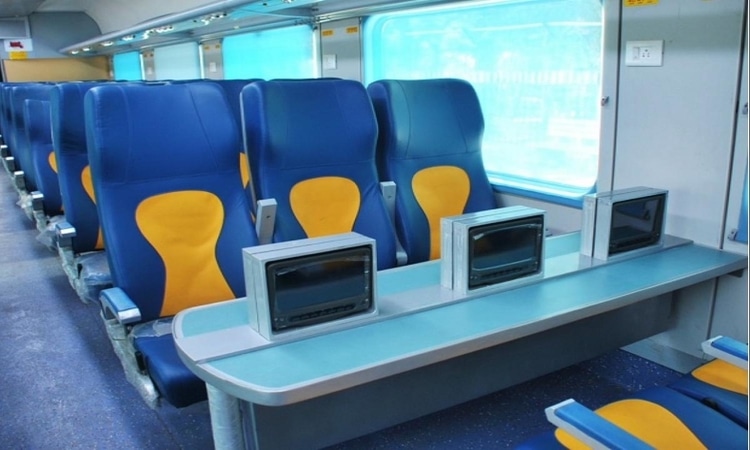 Meal Options
Passengers on board will be offered refreshment as soon as they board. They can choose from Tea/Coffee (pre-mix kit) with cookies (chair car), premium cookies for Executive chair-car class. Other option is packaged nimbu pani with cookies for chair car; flavoured lassi in lieu of nimbu pani for Executive Class.
For breakfast, travellers can choose from their vegetarian combo of two pieces of vegetable cutlets with poha. Another combo consists of two pieces of vegetable uttapam with vermicelli along with coconut chutney. In addition to this, another combo encompasses Medu Vada and suji upma along with coconut chutney. There is also one non-vegetarian option available, masala omelette and sautéd vegetables. Along with this, cornflakes, sugar sachet and milk will also be provided to executive class travellers.
Passengers can also order additional food items like Mishti dahi/Mango dahi, two pieces of brown bread, butter, tomato ketchup, branded fruit juice, Tea/Coffee kit, salt and pepper, mouth freshener.
Just before the termination of the journey, passengers will be served refreshments such as small masala samosas/branded cookies with tea/coffee premix. In the executive class, additional muffin/slice of cake will also be given to passengers.
Book your tickets in this exclusive train which is run and managed by IRCTC through Trainman app and get cashback upto Rs. 210 by choosing the payment mode as PayPal. Download Trainman App and check PNR Status of the booked ticket, Seat Availability, Running Status, Train between station and a lot more features.