2020 seems to be the worst year that we have come across in a long time. The year 2020 is about to end and we have been hit by a global pandemic, frequent earthquakes, locust attack, devastating cyclones and now farmers agitation in Punjab. It has been more than 2 months that the protest of the farmers is going on. For those of you who don't know what is Farm Bill 2020 then keep reading this blog as we will talk about all you need to know about Farm Bill 2020 and how farmer protests have impacted railways.
Three farm bills were introduced in the Parliament on September 14 to replace the ordinances issued during the lockdown. The farm reform bills that have led to widespread protests in recent weeks have been passed by the Rajya Sabha and would now be sent for the President's assent.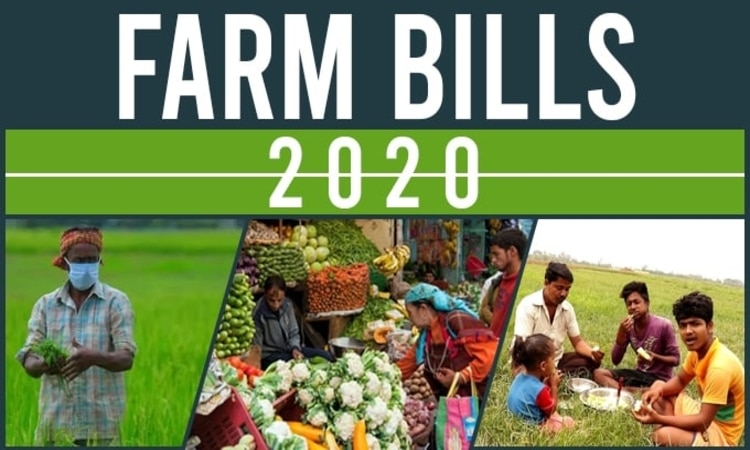 Farm Bill 2020
The three farm laws include Farmers' Produce Trade and Commerce (Promotion and Facilitation) Bill; Farmers' (Empowerment and Protection) Agreement of Price Assurance and Farm Services Bill and Essential Commodities (Amendment) Bill. Let us now have a look at each of the bills in brief.
The farm bill will allow farmers to sell their produce at places other than the agricultural produce market committee (APMC) regulated mandis. So, if a farmer feels a better deal is possible with some private buyer then he can take that option instead of selling in the APMC mandi.

It provides a framework for farmers to enter into contract farming with private players i.e. signing a contract with a company to produce what it wants in return for remuneration.

The bill gives freedom to produce, hold, move, distribute and supply items that are not mentioned in the essential commodities list. So, anyone will be able to stock food articles freely without the fear of being prosecuted for hoarding. The Parliament also removed cereals, pulses, oilseeds, edible oils, onions and potatoes from the list of essential commodities.
Farmer Agitation in Punjab
The farmers' agitation in Punjab began around September 24 when they started blocking railway tracks and stations demanding the repeal of the three agriculture-related bills. Farmers in Punjab have expressed apprehension that the Central farm reform laws would pave the way for dismantling of the minimum support price (MSP) system leaving them at the "mercy" of big corporates.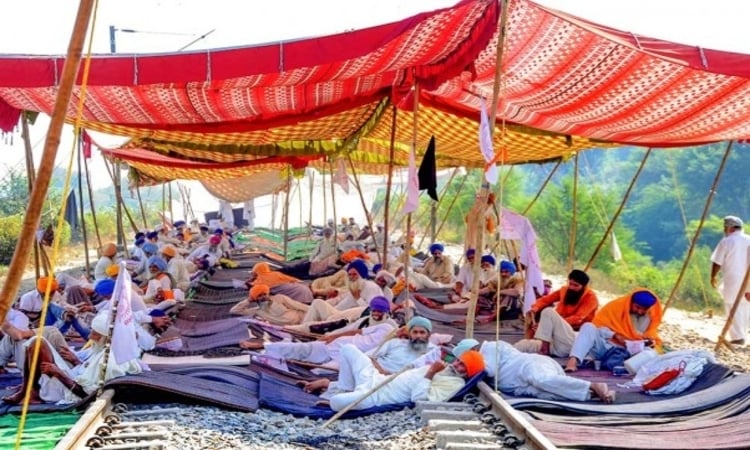 From October 01 onwards, all movements had to be suspended as agitation spread all over Punjab which affected complete train operations in Firozpur Division, partially in Punjab area of Ambala, Delhi and Bikaner Division. Later on, conditional goods train movement was allowed from October 22 followed by partial restoration of trains. Do read the blog latest train update to know about the same.
Loss Incurred by Railways
The loss suffered by the Railways due to the agitation in Punjab over the Central farm reform laws has crossed an estimated Rs. 1200 crore as protests on train tracks continued at 32 places across the State. According to the data released by the national transporter, over 2225 freight rakes carrying vital commodities could not be operated due to the blockades caused by the protestors. Around 1350 trains were forced to be cancelled or diverted. Do read the blog rail roko in Punjab to know trains affected in the Northern Railway (NR) zone.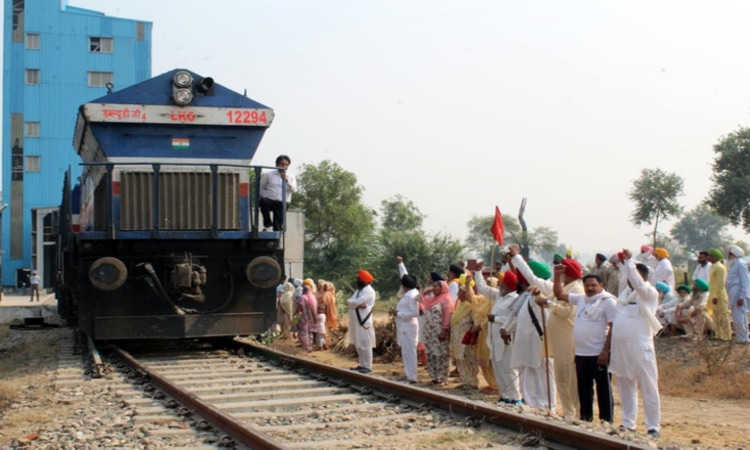 Train Services Disrupted
Train movement was suspended due to operational and safety considerations as agitators stopped some train movement and sporadic blockades continued at various places especially around Jandiala, Nabha, Talwandi Sabo and Bathinda. Additionally due to the continued blockages at sections of tracks in Punjab there was a major adverse impact on freight movement and on availability of vital commodities for the farm, industrial and infrastructure sector as well.
All inward and outward goods transportation including essential commodities have been affected adversely in Punjab, J&K, Ladakh and Himachal Pradesh and a number of freight trains including loaded trains remained struck as such for periods upto 15-20 days.
Business Losses
Many freight customers after having suffered business losses are getting diverted to other modes of transportation. Outward loading too has been affected from the Punjab area. Movement of foodgrain, container, automobile, cement, pet coke, fertilizer has also taken a hit adding the average loss of loading per day in Punjab to 40 rakes per day.
Other Protest and its Impact
This is not the first time that Indian Railways have suffered a huge monetary loss due to the farmers protest. Let us have a look at the earlier protests that incurred a huge loss to the railway.
Gujjar Agitation
Normal life in Rajasthan has been hit as Gujjars were staging protests over various demands. Following numerous protests earlier the Rajasthan government in 2018 passed a bill which increased the OBC quota from 21 to 26 percent. In February 2019, the Rajasthan Assembly passed a bill giving 5 percent quota in government jobs and educational institutions to Gujjars and four other communities agitating for it. Due to the Gujjar protest, the Delhi-Mumbai rail connectivity was affected. As per Asian News International (ANI) railways cancelled and diverted 29 trains.
Likewise In 2015, Railways had suffered loss of about Rs. 100 crore due to the Gujjar agitation which has forced cancellation and diversion of as many as 326 mail express trains. Besides the passenger service the agitation has adversely affected the freight movement as many goods trains were also diverted to other routes.
That's all for today! Stay tuned to the Trainman blog to know the latest updates on railways and COVID-19 virus. For a quick ticket booking experience book your train tickets through Trainman app. Download Trainman App and check PNR Status of the ticket booked, Seat Availability, Train Inquiry and a lot more exciting features.