The Goa Express is an Indian Railways superfast express train that runs daily between Vasco Da Gama in Goa and Hazrat Nizamuddin in New Delhi. The Goa Express train runs as 12780 from Hazrat Nizamuddin to Vasco Da Gama and as 12779 on its return journey.
Train Classes: 2A, 3A, SL, GN
Service Days: Monday, Tuesday, Wednesday, Thursday, Friday, Saturday, Sunday
Distance: 2202 km
Stops: 30
Duration: 39 hours 25 min
Average Speed: 55 km/hr
Type: Superfast Express
Zone: SWR/South Western Railway
Goa Express Route
Goa Express began operations long before the Konkan Railways. As a result, the Goa Express train travels through Margao, Londa, Miraj, Sangli, Belgaum, Satara, Pune, Manmad, Daund, Bhusawal, Khandwa, Jhansi, Itarsi, Bhopal, Gwalior, Agra, and Mathura.
Goa Express can travel 2202 kilometers in 39 hours and 25 minutes. The train travels without stopping through Maharashtra, Karnataka, Madhya Pradesh, Uttar Pradesh, Haryana, and Rajasthan at Dhaulpur.
The only daily passenger express train that passes through the Dudhsagar Falls on the Braganza Ghat section is the Goa Express. Furthermore, Goa Express 12779 provides an excellent opportunity for passengers to enjoy the natural beauty of Goa en route as well as the wonderful Vasco Da Gama to Londa Station rail route.
Goa Express Train Facts and Features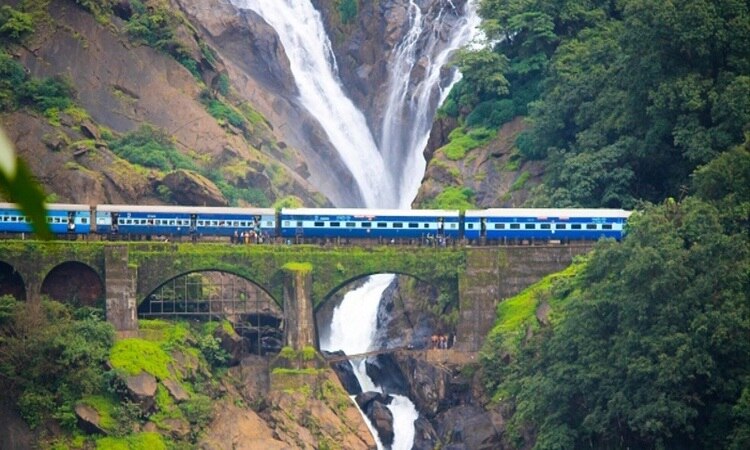 Around 1987, the train was introduced. Goa rail links were Meter Gauge when they were first introduced.
The Goa Express train had both a Broad Gauge (BG) and a Meter Gauge (MG) counterpart, with the MG section running between Vasco da Gama and Miraj and the BG section running between Miraj and Hazrat Nizamuddin.
The Goa Express train was numbered 2479/2480 when it first ran and was operated by the Delhi Railway Division of Northern Railway.
Post-gauge-conversion When the Broad Gauge (BG) train completed the entire route, it was transferred to the Hubli Railway Division of the present-day South Western Railway and renumbered as 12779/12780.
The Goa Express train is similar to the Telangana Express, Karnataka Express, and Andhra Pradesh Express in that it connects the respective state capitals to New Delhi.
Vasco da Gama (VSG) is the nearest railway station to Panjim, Goa's capital. Panjim is not easily reached by train.
Reversal of the Goa Express Train's Direction
The Goa Express Train reverses direction three times:
Londa Railway Station
Pune Railway Station
Daund Railway Station

Trainman online railway reservation is now simple, quick, and safe, so you won't have to wait in long lines for IRCTC tickets. You may book trains to any location, class, or train type with us. You may see information like train departure and arrival times as well as the train's PNR status between two selected destinations.