Indian Railways has decided to introduce another 80 (40 pairs) special trains from September 12, 2020. Bookings in these new special trains will begin from September 10, 2020, onwards. These new special trains by Indian Railways are in addition to the fully air-conditioned rajdhani-like 30 COVID-19 special trains and 200 special trains that are already being run. Other regular passenger services including all mail/express, passenger and suburban services will remain suspended till further notice. If you want to know more about this then do read the blog Train suspension extended.
Indian Railways had suspended all passenger trains due to the coronavirus induced nationwide lockdown from March 25. However it resumed services in a staggered manner with shramik special trains to help stranded migrant workers reach their home states from May 01. After that Indian Railways started its first set of special trains on May 12.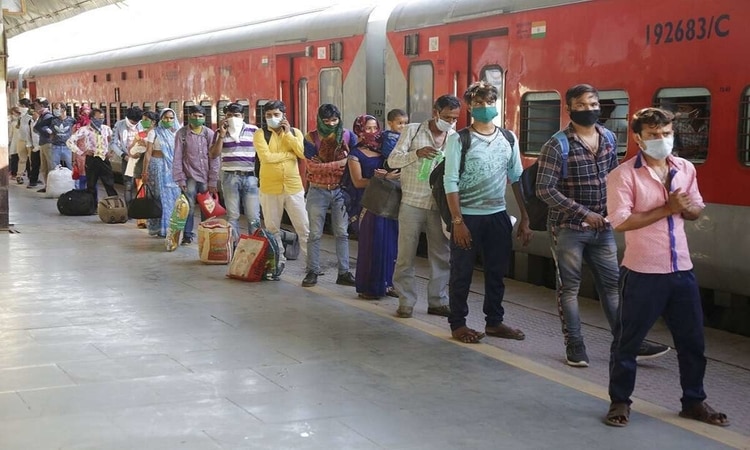 Some of the new trains that will be operational from September 12 are train no. 02401 Nanda Devi AC COVID 19 Special will leave from its source station Kota (KOTA) at 17:55 and will reach Dehradun (DDN) at 05:40 on the next day. It will run daily starting from September 12. Another train no. 02571 Gorakhpur Delhi Humsafar COVID 19 Special (Via Barhni) will leave from its source station Gorakhpur (GKP) at 18:45 and will reach Old Delhi (DLI) at 08:50 on the next day. It will run on every Wednesday, Friday, Saturday and Sunday starting from September 12. Likewise train no. 02435 Varanasi New Delhi Vande Bharat COVID 19 Special will leave from its source station Varanasi (BSB) at 15:00 and will reach New Delhi (NDLS) at 23:00 on the same day. It will run on every Tuesday, Wednesday, Friday, Saturday and Sunday starting from September 12. Here is a complete list of 40 new pair of trains that will function from September 12.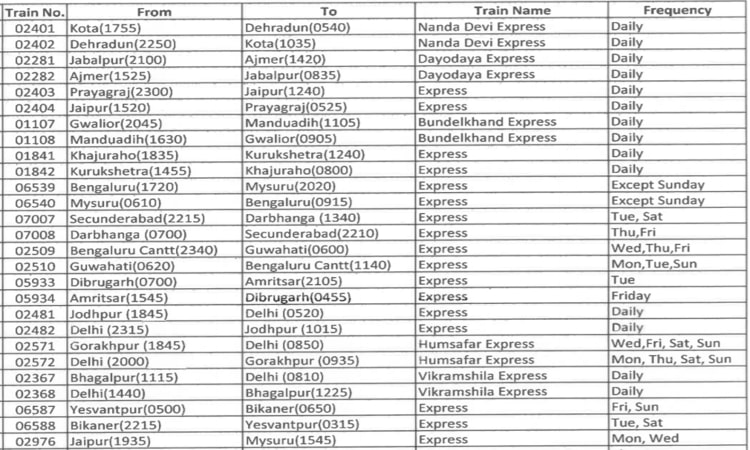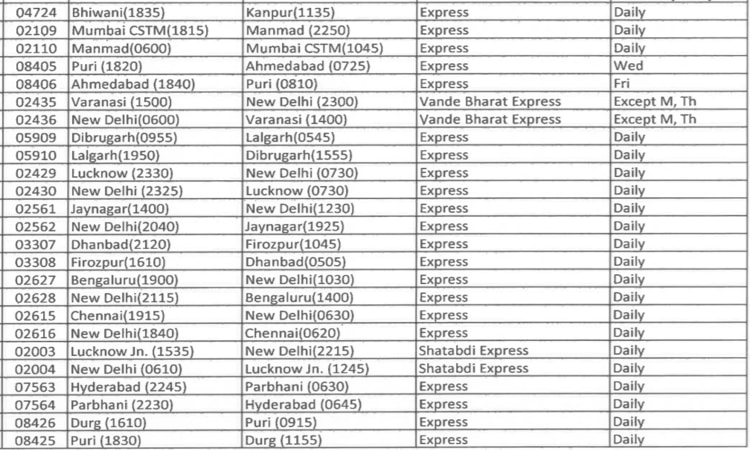 The above-listed trains will be fully reserved trains. The timing of these trains will be as per regular trains. Stoppages will be restricted and will be taken into consideration after discussion with the respective state governments.
Travel Advisory
Passengers travelling through train are required to reach the station at least 90 minutes ahead of train departure time. As per the MHA guidelines passengers travelling on the train are going to be screened for coronavirus and those found asymptomatic are permitted to travel. It is mandatory for all the passengers to cover their face with face cover or mask during the journey. All the passengers must download the Aarogya Setu mobile app. Travellers are required to observe social distancing both at the station and on the train. On arrival at the destination travellers need to adhere to health protocols prescribed by the state/ UTs which might include staying in state government designated quarantine centres for 14 days. Passengers are advised to carry their own linen or blankets as no blanket and linen shall be provided in the train.
The coronavirus cases in India crossed the 42-lakh mark. India surpassed Brazil with 42,08,645 cases and is now behind the USA (currently the worst-hit country with COVID-19 pandemic) which has recorded 6.29 million COVID-19 cases. The number of deaths due to the infection in India has reached 71,711. The United States has recorded the highest number of deaths followed by Brazil, India, Mexico and Britain. A total of 32,50,311 people have recovered. The recovery rate of India stands at 77.23 percent. To know in detail about the COVID-19 virus outbreak in India check real-time COVID-19 cases.
Stay tuned to the Trainman blog to know the latest updates on railways and COVID-19 virus. For your one-stop solution, book your train and flight tickets through Trainman app. Download the Trainman App to check PNR Status of your ticket, Running Status, Seat Availability in special trains and many such features. The Trainman team recommends all the people across the nation to avoid non-essential travel to prevent the spread of novel coronavirus.