Birdwatching is one of the best ways to appreciate nature and also expand one's knowledge about the biodiversity of a region. And many of India's wildlife sanctuaries are the perfect places to do just that. Home to over 1250 species of birds, the various sanctuaries can be considered among the best destinations for both professional researchers as well as hobbyists.
A birding tour to even one or two Indian wildlife or bird sanctuaries allows bird enthusiasts and nature lovers to go home with unforgettable experiences. One will be able to observe and photograph distinctive birds when one pays a visit to any of these sanctuaries.
The bird-watching destinations that will be covered in the following sections are guaranteed to motivate you to get out your binoculars and camera to take a peak.
Nameri National Park (Sonitpur, Assam)
Adjoining Pakke Sanctuary in Arunachal Pradesh, the Nameri National Park spans an area of 1,000 sq km. The landscape comprises moist, semi-evergreen deciduous forests with bamboo and cane breaks. There are also narrow strips of open grassland along rivers.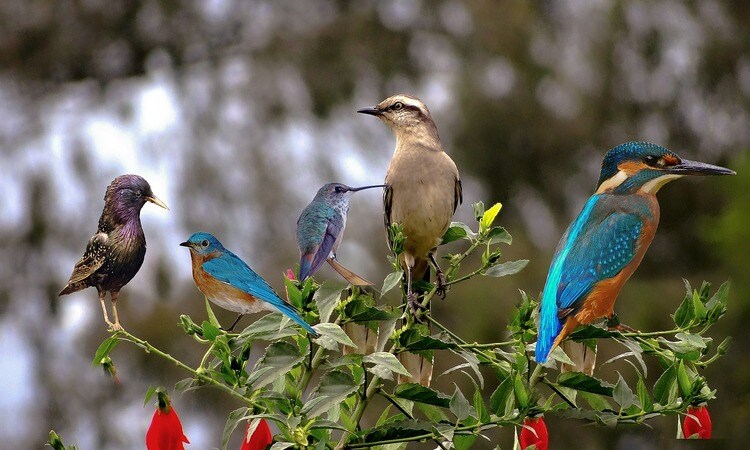 (Image Credit: The Top Tours)
The park is situated in the Himalayan foothills around 35 km from Tezpur. Over 300 species of birds can be found here, including black storks, babblers, ibisbills, hornbills, plovers, etc. The park is also home to a wide range of ground-dwelling animals such as sambars, tigers, leopards, gaurs, sloth bears, and Himalayan black bears.
It was first declared a reserve forest in 1978 and finally became a national park two decades later. With such a wide expanse to explore and such a numerous variety of birds, Nameri National Park is guaranteed to be a most unforgettable experience for any birding enthusiast.
Getting Here (Nearest Railway Sation - Guwahati)
Sims Park (Coonoor, Tamil Nadu)
Tucked away in the Western Ghats, the Western Ghats are stunning natural ecosystems found anywhere in the world. Its landscape is graced with beautiful shola forests, tea estates and tropical forests. The diversity in the landscape has resulted in amazing biodiversity that is hard to find elsewhere.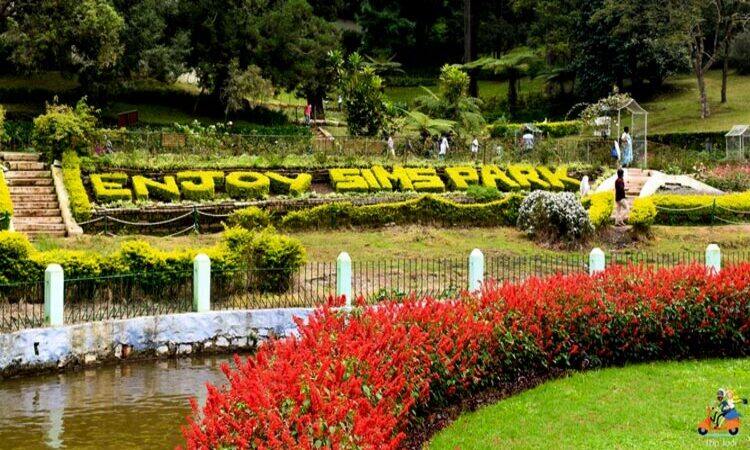 (Image Credit: Ooty Tourism)
The region contains about 5000 species of flowering plants, 179 amphibians, 140 mammals, and around 508 species of birds. Many of these birds are endemic, i.e., they are found in this region exclusively.
Visitors can look forward to seeing Western Ghat's specialities on tours that take you through one of the most breathtaking parks in the region. You will have plenty of opportunities to snap some memorable photographs of the many birds of the Western Ghats.
Getting Here (Nearest Railway Sation - Coimbatore)
Thattekad Bird Sanctuary (Kothamangalam, Kerala)
Thattekad Bird Sanctuary which is located about 12 km from Kothamangalam, and covers an area of 25 square kilometres, is one of India's first bird sanctuaries. Despite its relatively small size, it has been described as the richest bird habitat in the Indian peninsular.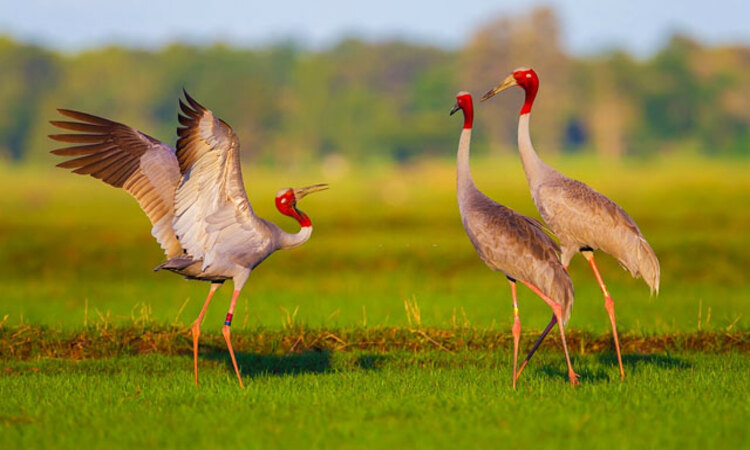 (Image Credit: South Tourism)
The sanctuary has a varied and rich bird life being home to several species of both forest and water birds. Some notable ones include Indian Pitta, Jerdon's nightjar, Indian cuckoo, Whiskered terns, Ceylon frogmouth, Grey-fronted green pigeon, and yellow-breasted bulbuls.
The nearby Idamalyar Forest located around 15 kilometres from the sanctuary also has some interesting varieties of birds. A stretch of evergreen forest extending from east to the southeast of the Idamalyar is home to avifauna such as mountain hawk eagles, brown-backed fulvetta, and white-rumped needletails.
Getting Here (Nearest Railway Sation - Aluva)
Nalsarovar Bird Sanctuary (Ahmedabad, Gujarat)
Located only an hour's drive away from Ahmedabad, Nalsarovar Bird Sanctuary is a stunning natural haven. Spanning around 120.82 sq km, it is a paradise for nature enthusiasts and bird watchers.
The Nalsarovar dates back to the 15th century when a check dam was constructed across the Sbramati River which led to the formation of a lake. Initially, the lake was used for irrigation and as a source of drinking water for the nearby village.
(Image Credit: Club Mahindra)
As time went by the lake became home to a wide variety of birds and local communities realised its ecological significance. Subsequently, the British also recognized its importance as a wetland ecosystem and designated it as a protected area.
The sanctuary houses more than 250 species of egrets, pelicans, flamingos, cranes, herons and many more. The forest department has set up an interpretation centre known as "Abhiruchi Kendra" for monitoring and recording the biodiversity of the sanctuary.
In 2012, the sanctuary received further recognition of its ecological significance from the Ramsar Convention as a wetland habitat for birds. This designation has provided a framework for the sustainable use and conservation of the sanctuary and also acknowledges the socio-economic impact of the sanctuary on the local communities.
Getting Here
Kumarakom Bird Sanctuary (Kottayam, Kerala)
Spanning over 14 hectares, Kerala's Kumarakom Bird Sanctuary is one of the most popular birding spots in India. It is located in Kottayam on the banks of the Vembanad Lake and offers glimpses of a wide variety of rare species of birds. These include numerous species of migratory birds flocking in the thousands and ranging from regions such as the Himalayas to Siberia.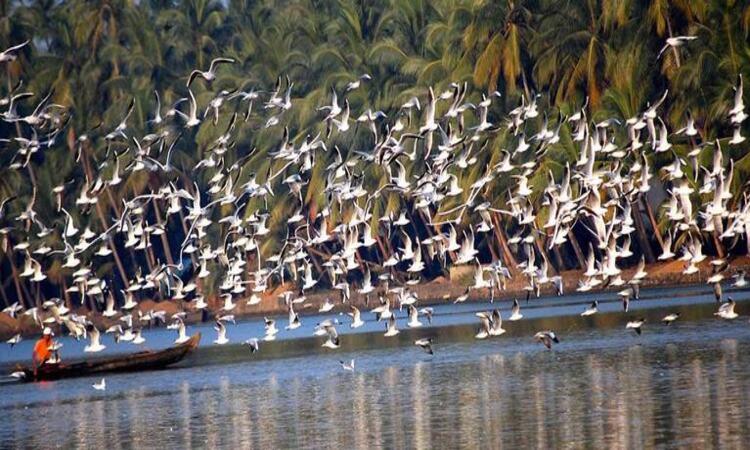 (Image Credit: www.keralaindiavacation.com)
The breeding season of many of the wetland birds including the Little Coromant, and Indian Darter, occurs between June and August. You can also expect to see water ducks, parrots, Siberian Cranes, teals and wood beetles. You can also look forward to extremely relaxing boating trips around the sanctuary.
The sanctuary has a rather unique history, having been developed in a rubber plantation. It was known as Baker's estate after its owner George Alfred Baker. The sanctuary is currently managed by the Kerala Tourism Development Corporation.
Getting Here
Ranganathittu Bird Sanctuary (Mandya, Karnataka)
A haven for around 170 different species of birds, the Ranganathittu Bird Sanctuary is also a paradise for nature lovers and bird watchers. It is situated on the banks of the Kaveri River spanning an area of 0.67 square kilometres and is a preferred nesting ground for numerous species of resident birds.
The interesting attraction of this place is that you can combine bird watching with boating. Whip out your binoculars and camera to spot and capture exotic birds as you gently row along the river. The most common species of avifauna found here include kingfishers, darters, painted storks, cormorants, black-headed Ibis, river terns, and many more.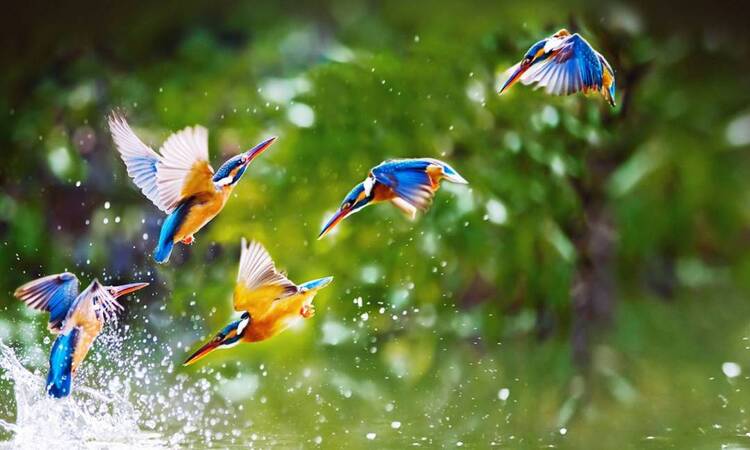 (Image Credit: Explore Bees)
Boat tours are probably the best way to go bird-watching at Ranganathittu Sanctuary. These tours are guided by rangers and are available throughout the day. However, the sanctuary and its islets experience heavy flooding during certain times of the year due to which boating is suspended.
During such periods tourists will be able to watch nesting birds from a distance. Some portions of the islets have been damaged over the years due to flooding, however, this damage has not impeded bird watching and tourism.
Getting Here (Nearest Railway Stations - Mandya & Mysore)
Sultanpur Bird Sanctuary (Gurgaon, Haryana)
Sultanpur National Park and Bird Sanctuary are located around 46 kilometres from Delhi in Haryana's Gurgaon District. The sanctuary is lush with varied flora such as different kinds of trees along with shrubs and clusters of bougainvillea.
Fours watch towers have been erected at different parts of the park to facilitate bird watching. Additionally, visitors will have access to adequate parking and other facilities such as drinking water and toilets.
(Image Credit: Ghoomakard)
Tourists and visitors can expect expert guidance at the sanctuaries Educational Interpretation Center that has been established for that specific purpose. With very few obstructions to getting a good view of the lake which is a watering hole for the birds, Sultanpur National Park is one of the best birding spots in the country. Birds can very easily be spotted swimming, wading, or flying.
There are around 90 species of migratory birds that arrive here to spend the winter every year. During this season bird watchers can expect a picturesque panorama of these migratory birds. Additionally, some of the species come here even during the summer. Be sure not to forget your binoculars as they are essential to catching the avifauna from a safe distance.
Getting Here (Nearest Railway Stations - Gurgaon, Delhi)
India is home to numerous species of avifauna featuring well over a thousand different species across the subcontinent. All of the notable birding spots pay homage to these creatures, each in their way. While the aforementioned parks and sanctuaries are some of the most notable places for birdwatching, they are by no means the only ones.
Observing birds is a fascinating experience with birds of so many varieties and characteristics. Some species may proudly flaunt their plumes, while others are so small that they are near-impossible to spot.
This summer, wandering across the subcontinent to catch glimpses of its wide variety of birds is probably the most rewarding experience one can have. So whip out your binoculars and camera and get ready for a trip with Trainman.